The Australian retail landscape is rapidly changing; from global retail giants like Amazon and H&M to smaller players like Sandro; everyone wants a piece of the retail pie.
European pure players, such as Farfetch are capitalising on the high disposable income of Australians by enticing this market through unique luxury fashion items that are not stocked within Australia, paired with great prices often with free/cheap shipping. Competition for retailers is tough, and staying ahead of the market is more crucial than ever. On top of this stiff competition, customer loyalty and satisfaction is facing change. Bad customer service is now a prison sentence, with no second chances given. As a result, it's clear that online retail today is no walk in the park.
To combat these issues, retailers are investing more and more to drive traffic to their online stores. But where is this money even going? Is it even a solution to the problem?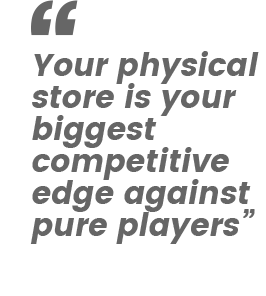 While more money is being poured into online retail, the reality is that in Australia, over 90% of retail transactions still occur in store. Rather than spending money online, or spending hours searching for the perfect jacket instore, Australians are turning more and more to webrooming. We research products and compare prices online, find a couple that pique our interest, and then we go to stores to try and buy them.
At the heart of the webrooming trend, driving customer traffic to your store to try and buy is a vital marketing expense for retailers. If the item searched for is not in stock, then the sale is completely lost 60% of the time. Bye bye customer. In an age where customer satisfaction is key, this will result in waning customer loyalty, where they will most definitely not be prepared to stick around.
So, how do we look to the future with the incoming Amazon giant? Real time stock visibility. Your physical store is your biggest competitive edge against pure players, so you MUST use them wisely. Let your customers do their webrooming, and give them the peace of mind knowing that they can walk into your store, know that the product is available, and try and buy with success. Don't wait for Amazon to take over, or wait until Christmas is long gone. The time is now for real time stock visibility.
To find out how you can give your customers access to stock visibility, installed within two weeks at an affordable price, get in touch with stockinstore.