You're probably aware of the importance of staying ahead of the omni channel retail game. With rapid changes in the retail industry, there's no better time to adapt to the new retail landscape than now.
The recent Digital Commerce 360's 2023 Omnichannel Report breaks down their latest survery's and research. The invaluable data on the evolving needs of shoppers ultimately directing the  immediate changes retailers should make to meet demands.
What is an omni channel retail strategy?
An omnichannel retail strategy creates a seamless shopping experience for customers across all channels, including online, mobile, and in-store. The goal is to create a consistent and cohesive shopping experience, regardless of the channel customers use.
This approach recognises that your customers use multiple channels to research, browse, and purchase products. In order to create a seamless transition between them. For example, a customer may browse products online and then choose to purchase the item in-store, or they may purchase online and choose to pick up the item in-store.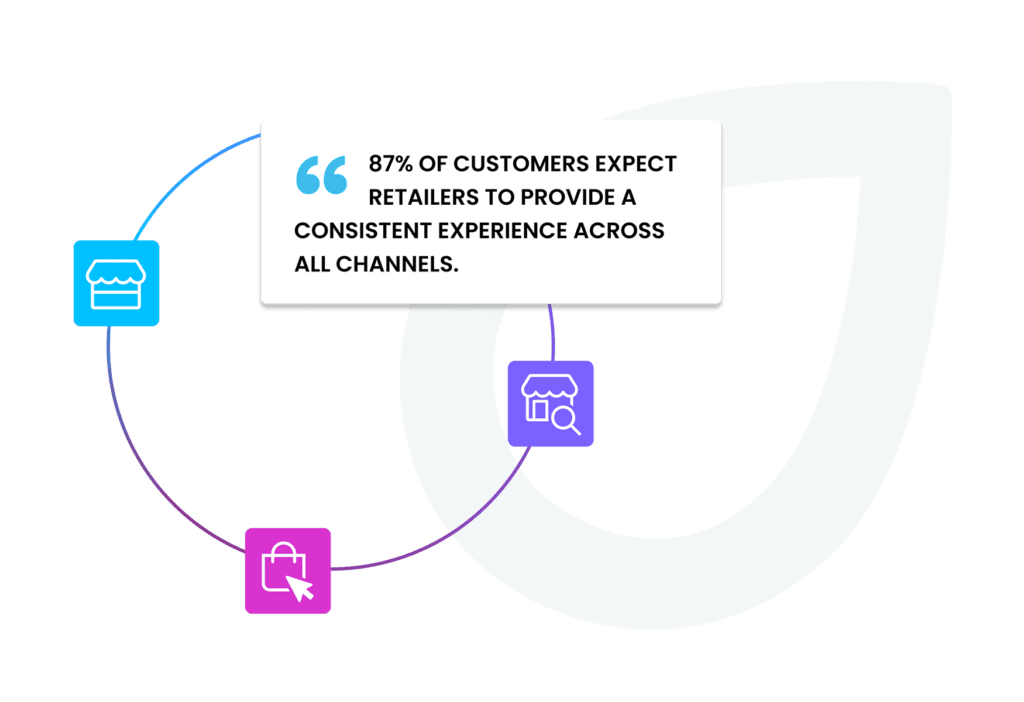 Click and Collect: It's here to stay
In the omnichannel world, Click & Collect is a crucial solution that has already proven its value and will continue to do so. Even beyond the pandemic, the convenience of this solution has demonstrated long-term benefits with 60% of customers preferring to purchase online and pick up in-store.
Ensuring that the Click & Collect process is seamless and user-friendly is crucial for retailers. StoryBlok's "The State of eCommerce 2023 Report" highlights that:
Additionally, 60% of consumers abandon an average of five purchases each year due to poor website user experience. Fortunately, with stockinstore's seamless Click & Collect integration, you can offer your customers a hassle-free omni channel shopping experience. With real-time inventory availability across all channels, customers can easily buy online and pick up in-store, or have their orders shipped directly from the store.
The Power of Real-Time Inventory Visibility
Real-time inventory visibility is key to a successful omnichannel strategy. 71% of shoppers who use multiple channels say that they are more satisfied with their overall shopping experience than those who only use a single channel.
stockinstore's Find in Store solution provides real-time inventory visibility, making it easy for your customers to see whether a product is in stock at their nearest store. By integrating with your existing systems, we ensure that your customers always have access to up-to-date inventory data. This not only streamlines the buying process but also enhances the overall shopping experience for customers.
The Importance of a Seamless Omni Channel Experience
87% of customers expect retailers to provide a consistent experience across all channels. This means that you need to have a unified view of your inventory and customer data to ensure that you're able to provide a seamless experience across all channels.
We're on a mission to unlock the full potential of omni-channel retail for businesses and customers alike. Our easy-to-integrate solutions including Click & Collect (In Store Pickup), Ship from Store, Find in Store, Store Locator, Find in Store (for Wholesalers), and Google Local Inventory Ads, are designed to transform your store network into your competitive advantage.
Simplifying the buying process for customers through implementing solutions that make it easy to purchase items online and pick them up in-store, find their nearest stores, or have their orders shipped directly from the store.
Want to talk omni channel?
Use your store network to your competitive advantage
The omnichannel approach is no longer just a trend; it has become an essential part of retail. With stockinstore's solution suite, businesses have access to a range of innovative solutions that are specifically designed to enhance the omnichannel retail experience. With our innovative solutions, you can enhance your omnichannel strategy and create a retail experience that exceeds your customers' expectations.