Colette Hayman, introduces Click & Collect (BOPIS) with stockinstore as their retail solution partner following the successful implementation of Find in Store – improving their eCommerce strategy.
The retailer understood the importance of expanding their omnichannel retail strategy with the introduction of Click & Collect. Undeniably the ideal fit to create a better customer experience and improve business procedures.
Who are Colette Hayman
With the vision to help women style themselves with ease, confidence and no limitations, Colette by Colette Hayman was born.
Colette Hayman offers a range that values affordable fashion trends, becoming a destination for bags, jewelry and accessories. Providing unmatched levels of style, with over 300 new bags, jewelry and accessories launching every week.
BOPIS eCommerce Strategy
Naturally, the expansive product offering meant that a seamless omnichannel strategy is vital in their retail strategy. Utilising our Find in Store solution, Colette Hayman saw huge benefits of providing stock visibility to their online customers.  
Connecting them to physical stores, this journey paved the way for a Click & Collect solution. After the successful implementation of Find in Store, the retailer came to us as their trusted solution partner.
The countless benefits of adopting more omnichannel strategies, the retailer was keen to do more than just show stock availability in-store. Customers visiting their stores making cross-selling easier thus adding further value to the customer experience. The team at Colette can now offer a Buy Online and Pickup In-Store eCommerce solution for their customers.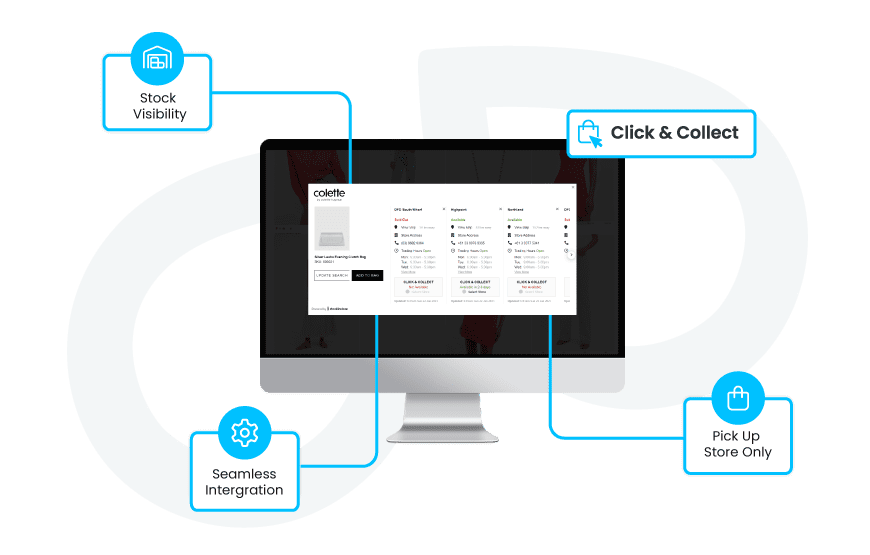 Flexible Fulfilment Solution
As existing clients, it was a no-brainer to integrate stockinstore's Award-winning technology with their chosen eCommerce platform – Shopify. The retailer's journey to Click and Collect was made possible by the retailer's existing trust in the stockinstore solution. Working together with our specialists, who had previously launched Find in Store for the retailer in 2021.
We want to support Colette Hayman to build an order fulfilment solution that can work with their business processes in a variety of ways. 
By developing a modular system designed to grow with their dynamic business. stockinstore's Click and Collect solution assists with reducing freight and delivery costs therefore improving the overall customer experience.
Thanks to Mitchell Barber, Sanjay Bhati, Fabiana De Faria, Henrik Kocharians and Natasha Bruun for making it another successful integration with Shopify.
Want omnichannel solutions?
If you're in the retailing business, be it as a retailer, franchise, wholesaler or manufacturer and want to make purchasing in-store as flexible as online, get in touch now to find out more.