We're excited to announce our very first UK client Fulham Timber!
With the implementation of stockinstore's Click & Collect and Find in Store solutions, Fulham Timber has improved the convenience for their customers by streamlining the process of locating and ordering materials. This innovative tool, integrated seamlessly into their website, significantly simplifies the customer shopping experience using omnichannel retail solutions.
The timber wholesaler source and supply only the finest quality timber and building supplies to their thousands of loyal customers ranging from not only the general public, but independent contractors and government organisations too. With their new Click & Collect and Find in Store solutions, we're making it even easier for their customers to find exactly what they need.
Who are Fulham Timber?
Established in the heart of Fulham in 1984, Fulham Timber has evolved from its humble beginnings into a thriving network of four branches across South West London and Croydon, along with a cutting-edge sawmill in Colliers Wood, South London.
Throughout its journey, Fulham Timber has remained committed to sourcing and providing only the highest quality timber and building supplies. Bricks-and-mortar isn't the only way they do business. The company formed an online team in March 2017 and have since then rapidly grown their website and online service which paved the way for stockinstore's omnichannel solutions.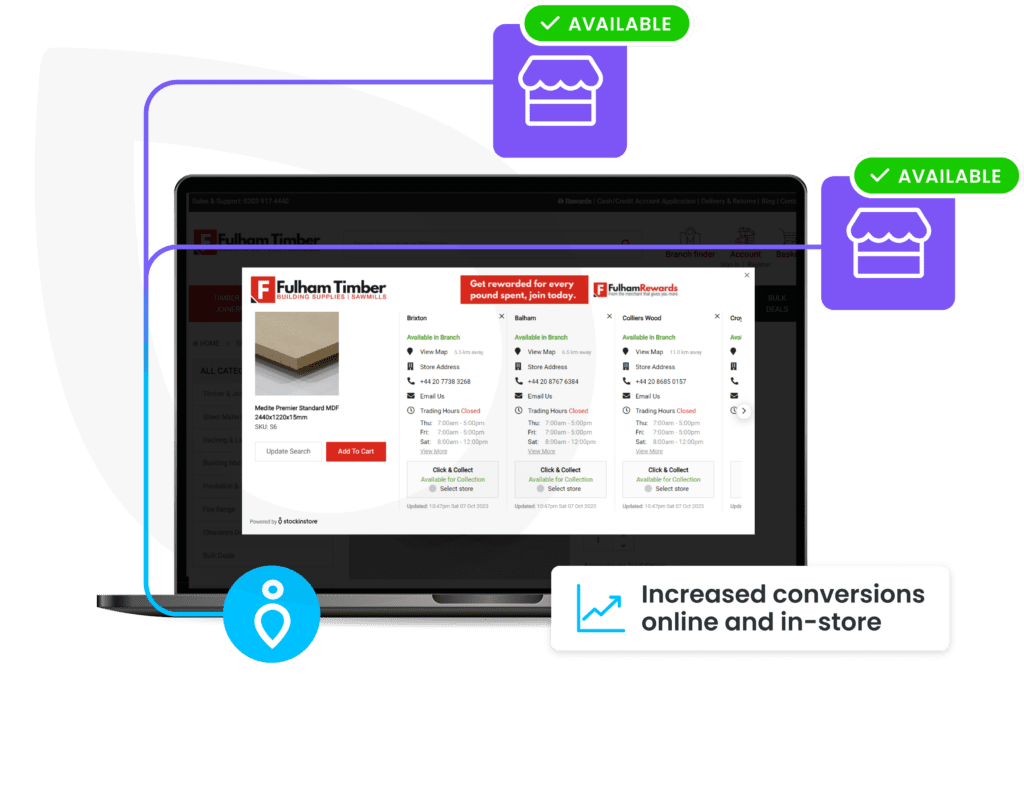 Omnichannel Retail Solutions
Launching our Click & Collect and Find in Store solutions on their BigCommerce website, we make shopping timber and building supplies even more convenient.
Although a company with bulky and made-to-order items may not be the first one that comes to mind with a Click & Collect solution, but in reality, Click and Collect is a great tool for busy tradies that need to buy last-minute material and pick it up on their way to work.
Fulham Timber are rolling out their Click & Collect solution gradually, starting with 20% of their SKU's and working their way up to offer the in-store pickup option with their entire range.
The business can now show customers their in-store availability and Click & Collect options on any page of their website, from the product page to the checkout. No more time wasted searching for the right materials, this innovative tool allows busy tradies to locate the products they need quickly and easily.
Thank you to the Fulham Timber team. It's a true pleasure working with such a dedicated and forward-thinking company.
Check out Fulham Timber and discover how this innovative solution can transform your shopping experience.
Interested in Click & Collect?
Discover why leading brands like Fulham Timber are choosing stockinstore as their preferred omni-channel platform.