We recently went live with a new feature – An "Add to Bag" button on the stockinstore widget.
Convert higher online by adding products straight to the cart
This means when a product is not available in a store nearby but is available online, your customers can add the item to their shopping bag without having to close the stockinstore widget. This will further help increase eCommerce Conversion Rates.
We have built in some smarts too. We check the online stock availability, and if the item is sold out online, the "Add to Bag" button will not show.
Get in touch to hear more about this feature and other features that make stockinstore different to other "find in store" solutions.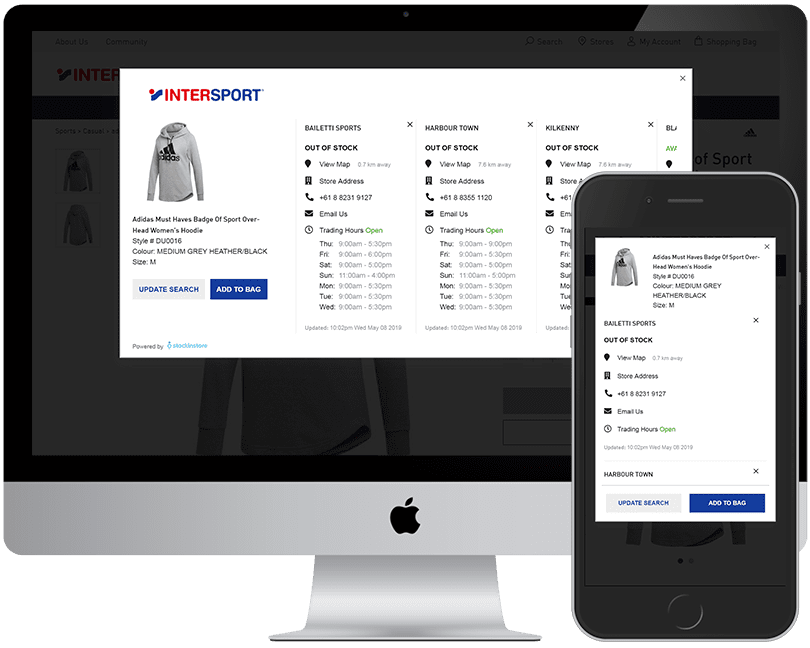 About stockinstore®
stockinstore was launched in 2016 as a way for retailers to tell online shoppers which stores nearby have the item they're looking for. Since its launch, this ground-breaking technology has continued to bridge the gap between online and in-store; and gives retailers valuable insights into customer demand for products across their store network. To learn more about stockinstore and join a growing list of retailers like M.J. Bale, Adairs, Early Settler, PETstock, Kookai, Florsheim, Surf Dive n Ski, GUESS, Amazon Surf NZ, 99 Bikes, Intersport,  Nique, Billini, The Upside, Bags to Go and Tentword, who are all using stockinstore to improve their retail businesses, visit https://www.stockinstore.com