The bustling retail Christmas Trading period is approaching quickly. With the anticipated increase in volume this Holiday Season, starting with Black Friday and Cyber Monday, it is crucial to unify the customer experience across your physical and online shops, making it seamless and memorable.
According to a recent survey by Power Retail, nearly three quarters (72%) of Aussie buyers say they have placed an order using Click & Collect. More customers are increasingly using the BOPIS (Buy Online Pick Up In Store) feature on an eCommerce website for its convenience as it is faster and cheaper than delivery.;
Click & Collect is Here to Stay
In the world of retail, the collective experiences shoppers have gone through amidst the pandemic have prompted new behavioral patterns accelerating the digitization of the consumer journey. Curbside pick up accounts for 25 – 40% of online purchases for our clients, highlighting how click and collect has become a permanent part of consumers' daily lives going forward. The holiday season is a fantastic time to draw customers to your eCommerce business and bricks and mortar stores to maximise reach and never miss a sale!
Many retailers now provide customers with the choice of picking up their orders the same day they are placed with Click & Collect. Having this choice is a blessing for last-minute shoppers, but it also means they will now most likely conduct targeted web research for local product stock availability and there is an expectation that retailers offer Click and Collect.
If they don't there is always the risk customers will buy from competitors who do offer this convenience. BOPIS presents a huge opportunity to keep customers happy but also drive them into stores.
As we are edging closer to Christmas, the busy retail period can be a deterrent for many individuals to brave the shops in-person. If they do go into stores, they want to know that the items are there, ready and waiting for them.
Integrating Click & Collect software enables those last-minute shoppers to secure presents without stressing about delivery time cut-offs but also eliminates delivery costs and provide a seamless 'in-and-out' no hassle experience for the customer in-store.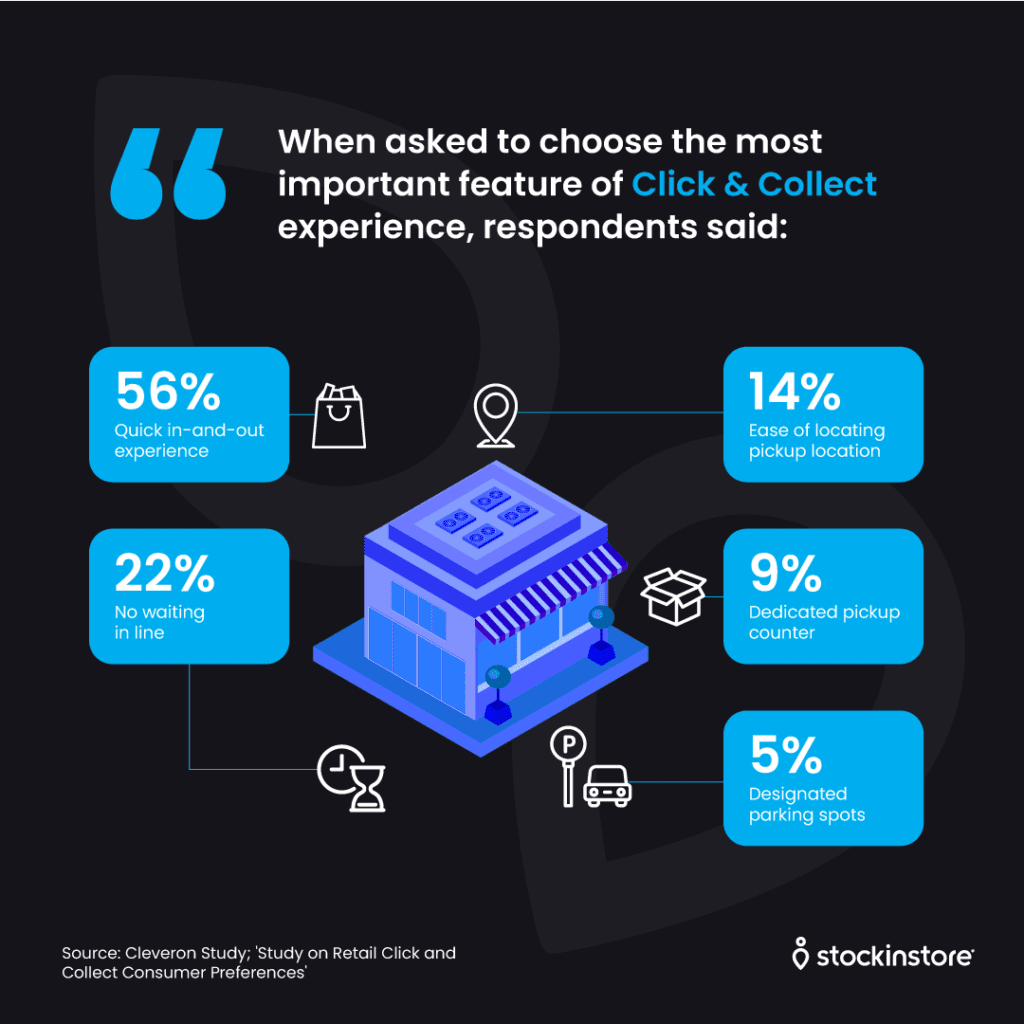 Another advantage of buying online and picking up the item in store is the reassurance it provides the customer, knowing the item is safe and secure, and can only be picked up by the buyer; not left outside their front door if they are not home to receive the delivery.
Benefits for Retailers
A well implemented Click & Collect fulfilment strategy not only benefits customers, but it is also a terrific way to leverage your store stock and reduce shipping costs. Retailers can choose from a range of Fulfilment options whether it be fulfilling orders from the store pickup location only, multiple stores, a warehouse, or a mix of all three.
Retailers also benefit from In-store pickups, with impulse upsells and cross sell purchases made during the pickup process. After all, nearly half of consumers who pick up their products end up purchasing other items while they are there.
The Importance of Unifying eCommerce and Physical Stores
According to Shopify data released over the Black Friday and Cyber Monday weekend, Australia made $4.97 billion in global sales for Black Friday — a 17% increase from the corresponding period in 2021.The National Retail Federation and Prosper Insights & Analytics reported a record 196.7 million consumers shopped both online and in stores over the weekend. It is easy to see that the demand for promotional events (and periods) is steadily increasing. These have traditionally been online events, but post-covid, we are seeing more sales go in store as well as online. The hustle and bustle of the Christmas period can mean some shoppers can miss out on their desired product. Click and Collect offers customers peace of mind and stock information to facilitate their purchase. Whilst some retailers may opt-out of offering Click & Collect during these busy periods, it is becoming a key differentiator in the customer's buying decision when choosing between brands.
stockinstore's Omni-channel retail solutions are connecting eCommerce and physical stores for retailers and franchises. We are all about offering a better customer experience and streamlining business processes. Click & Collect is a powerful tool during promotional periods to maximise stock levels and satisfy customers.
Our solution suite also include Ship from Store, Find in Store, Where to Buy and Google Local Inventory Ad Integration.
Want to offer more lenient delivery cut-offs for those last minute Christmas shoppers?
Click & Collect provides a solution for the stressful pre-Christmas delivery cut-offs. Interested?