Having a robust omnichannel strategy allows retailers to remove the distinctions for customers when shopping across channels. Undeniably blurring the physical and online experience.
There's without doubt been a significant push for retailers to adopt this strategy to remain competitive in the retail industry. Not to mention, 67% of customers use multiple channels to complete a single transaction.
Importance of Implementing an Omnichannel Strategy
Shoppers are simultaneously using multiple channels to complete their purchases. Firstly beginning their search on one and completing it on another. With the freedom to establish their own shopping preferences, demanding convenience and ease when choosing where to shop. 
Consequently, the ability to connect online and physical stores becomes a powerful tool for retailers in today's digital age.
Couldn't make our event?
Interested in our solutions? Want to know more?
The Future of Commerce is Omnichannel Retail
stockinstore have been privileged to collaborate with knowledgeable leaders in the omnichannel space. Each who have each significantly contributed to valuable discussions, expanding the conversation to include our larger audience was a no-brainer.
Roundtable of Industry Professionals
We have been fortunate to round-up an all-star panel at this live event in Melbourne to share how Toyworld Australia are using their store network to increase revenue and deliver better customer experiences through a truly omnichannel approach.
With extensive backgrounds engrained in the retail industry, it was an honor to be able to host an event that celebrated innovative eCommerce solutions at every stage of the process.
The panel included Sven Karlsson (Associated Retailers Limited), Andrew Maver (stockinstore®), Blake Waldron (Convert Digital), Sofia Newcombe (Starshipit) and the wonderful moderator Hannah Udina (Shopify Plus).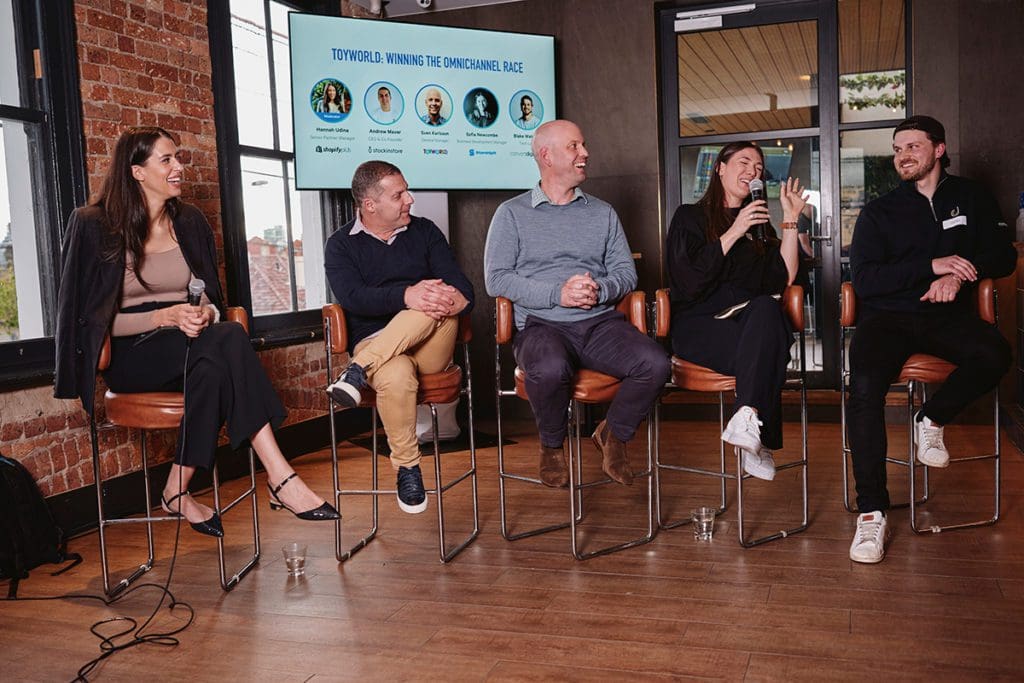 The panel discussed valuable insights on Click & Collect, Ship from Store, Delivery and Find in Store. Focusing on how Toyworld Australia has been able to leverage online and store inventory to improve customer experience and fulfill orders faster and cheaper.
It was a fantastic opportunity to catch-up with the Melbourne eCommerce community and learn about how Toyworld Australia is boosting sales. 
The opportunity to unpack how the retailer employed their eCommerce strategy to enhance customer experiences while also keeping up with omnichannel trends and consumer expectations.