The great outdoors is calling! As the Easter long weekend is approaching, and if you're planning on heading out to the wilderness this year, you're going to need some high-quality gear to make the most of your adventure.
That's where Zempire Camping comes in. With a wide range of top-of-the-line camping equipment, Zempire has everything you need for your next camping trip. And with the help of stockinstore's Where to Buy solution, finding the nearest Zempire stockist is easier than ever before.
Where to Buy: Your Guide to the Best Camping Gear
If you're not familiar with Where to Buy, it's similar to a Find in Store solution but for wholesalers. So ultimately allowing customers to quickly and easily locate nearby stores that carry their favorite products. This is especially useful for Zempire Camping, with over 250+ stockists.
Without Where to Buy, finding the nearest Zempire stockist could be a daunting task. Especially for customers new to camping or unfamiliar with the area, taking the guesswork out of finding the perfect gear.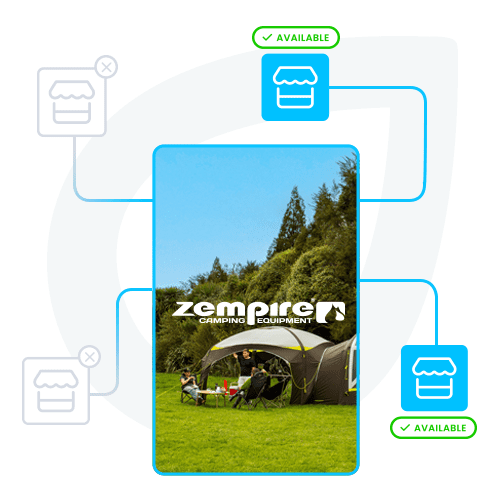 A Happy Camper is a Prepared Camper: Connecting Customers to Zempire Camping Stockists
The benefits of stockinstore's Where to Buy integration goes beyond just convenience. With stockinstore as their omni channel solution partner, Zempire Camping has since:
Boosted Sales and Happier Stockists: By connecting customers with nearby stockists, you'll increase sales and foot traffic while strengthening relationships with your stockists.
Enhanced Customer Satisfaction: Providing an effortless way for customers to locate nearby stores selling your products enhances the overall customer experience, leading to higher customer satisfaction and loyalty.
Stay Ahead of the Game: Offering a convenient and efficient purchasing option for customers gives you a competitive advantage in the market.
Easy Integration: Where to Buy effortlessly integrates with various e-commerce platforms, making it easy for wholesalers to incorporate it into their existing operations and systems.
Want to map out your omni channel strategy?
Ready to blaze a trail with Where to Buy?
So what are you waiting for? With Where to Buy, finding the perfect camping gear has never been easier. Whether you're planning a weekend getaway or a month-long adventure, Zempire Camping has everything you need to make your camping trip a success.