Imagine if you had the power to leverage your existing inventory to boost sales and drive down shipping costs, all while increasing shipping speeds. With new advanced retail fulfilment options, you don't need to imagine. You can make all this a reality.
Implementing a ship from store solution can help you continue to meet customers' increasing expectations for ordering online and receiving lightning-fast delivery.
But first, what exactly does ship from store mean? And how can retailers – both big and small – implement this omni channel retail fulfilment solution effectively, all within an increasingly competitive landscape?
First Things First: What Is Ship From Store?
A ship from store solution is a unique, game-changing model created to utilise a retailer's existing stock within their store network. It is called "distributed fulfillment" as it is a method where a retailer dispatches products to customers directly from a brick-and-mortar store, instead of from a centralised warehouse. 
What's So Great About A Ship From Store Solution?
Many leading retailers have already implemented a ship from store solution and are seeing benefits such as lower shipping costs, faster shipping times, improved product turnover, and reduced pressures on warehouses.
Transforming your retail stores into mini distribution warehouses utilises your existing staff to fulfill orders from nearby locations to your customers. Say goodbye to solely relying on warehouses or 3PL's for order fulfillment and say hello to faster, even same day delivery.
From a revenue perspective, this fulfillment method proves to increase online conversion rates as retailers can offer their entire stock pool to online shoppers and allow for a broader range and sizes to be sold online.
Streamline your delivery.
Want to utilise your store network to your competitive advantage?
Factors To Consider When Introducing Ship From Store
Incorporating a scalable and flexible distributed fulfilment solution is becoming increasingly important for omnichannel retailers. Yet, when implementing a ship from store solution within your business, there are a few major factors to consider.
Customer Demand and Geographic Reach
Analyse your customer demand patterns and identify regions or markets where you have a significant customer base. Consider the geographic reach required to efficiently serve those customers and prioritise areas for store fulfilment.
Inventory Management
It is vital that your inventory management system is robust and accurate to track and manage inventory across multiple locations. Implementing real-time inventory visibility to optimise stock levels, reduce stockouts, to ensure accurate order fulfillment.
Order Management System (OMS)
Implement an OMS that can handle distributed order processing. The OMS should be capable of routing orders to the most appropriate participating fulfilment store based on factors such as proximity, stock availability, and shipping costs.
stockinstore's Ship from Store solution uses logical and flexible business rules that makes this process more efficient than ever.
How To Implement A Ship From Store Solution
Decided you want to implement a ship from store solution within your retail business? You'll probably want to get started right away. Here's how.
1. Check Out Different Ship From Store Software Solutions
When it comes to implementing a ship from store solution, there are numerous options to consider. One crucial factor in making the right decision is choosing a software provider with a proven track record of successfully integrating with complex systems and that best aligns with your business needs.
2. It's Go Time. Integrate Your Software With Your POS/ERP Systems
It's essential to have the right technology infrastructure in place to support your distributed fulfillment operations. This includes reliable internet connectivity, inventory tracking systems, order management software, and integration with your eCommerce platform and POS/ERP system.
stockinstore works with all major e-commerce platforms and we will intergrate our software with your existing POS/ERP system/s.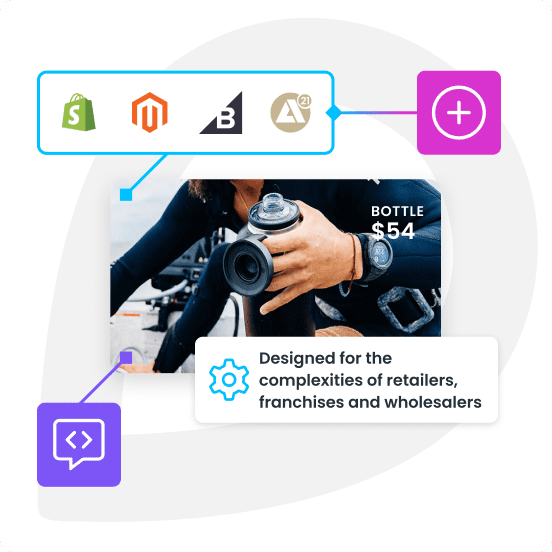 Want to leverage your store network?
We work with all major e-commerce platforms.
3. Add To Cart: Store Preparation
Ensure your retail stores are equipped with the necessary staff and equipment to be able to roll out your ship from store solution. If you are already using stockinstore's Click & Collect solution as a checkout option, your staff will already know how to use our intuitive Pick and Pack interface and can quickly adapt to preparing ship from store orders.
4. Hello, Sales! Roll Out Your Ship From Store Solution
Once everything has been set up, you're ready to roll your Ship from Store solution. If you choose to use stockinstore, we can help you with the process from beginning to end and we'll do all the heavy lifting. We have already implemented our Ship From Store software in countless major retail businesses.
Here To Play: A Ship From Store Solution In Action
Read how Toyworld Australia achieves a staggering 118% increase in online conversion rates.