Toby's Sports is the leading multi-brand sports retailer in the Philippines, delivering the best in sports and fitness products to millions of Filipinos nationwide. In a quiet area of the Greenhills Shopping Center, a little toy shop in 1978 served as the company's humble beginnings.
Today, Toby's Sports runs 63 stores throughout the Philippines, as well as an online site, carrying more than 100,000 items from 160+ reliable brands in a variety of sports.
Wanting to stay ahead of their competition, Toby's turned to stockinstore as their go-to omnichannel retail solution partner for Click & Collect (BOPIS) and Find In Store; helping them expand their online and in store offering in the sports sector.
Toby's focus on continuous improvement to their retail experience made stockinstore a perfect fit as their chosen omnichannel retail solution partner. Integrating BOPIS software enabled the retailer to deliver a better customer experience and streamline business processes. With a high number of products available, Toby's Sports needed a streamlined, flexible and scalable solution to provide customers with the right information and purchasing options, whether that be online, in-store or both.
Toby's has 63 stores nationwide, and it was important for the leading sports retailer that the rollout of the buy online pick up in store solution was seamless and required minimal training for the high number of staff. The intuitive nature of stockinstore's store collection manager meant that it can be picked up by anyone, from employees to casual staff in no time.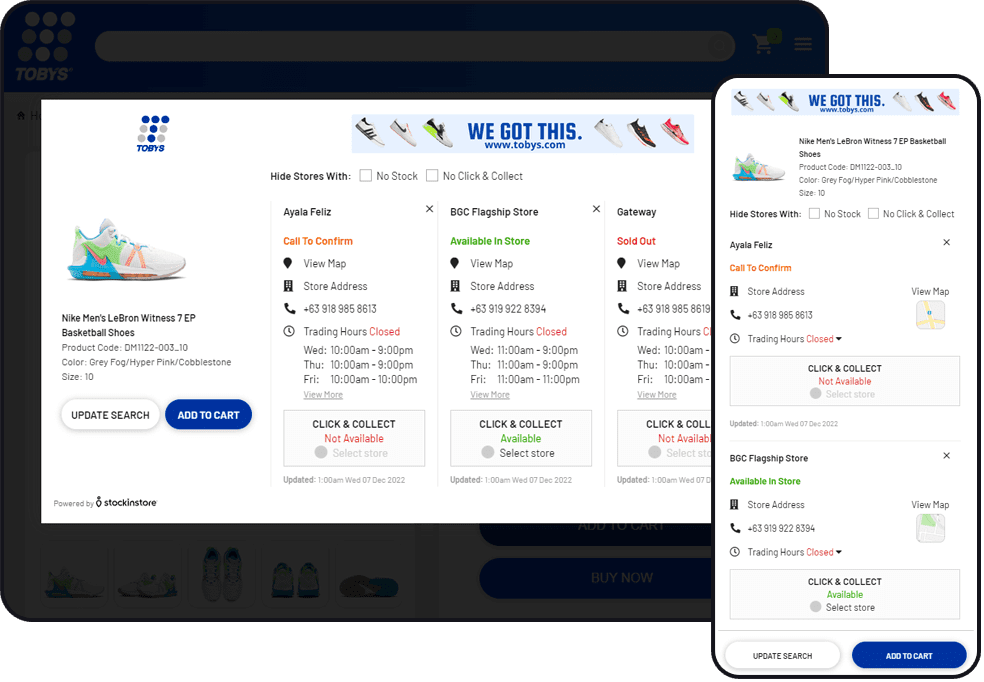 We would like to thank the team at Toby's Sports for being the first innovators to launch stockinstore in the Philippines. It's been a pleasure to work with you.