We're thrilled to partner with Wrangler Australia, launching Find In Store. By all means a major step towards bridging the gap between their online and physical stores. 
By enhancing their customers' experience through inventory management, the solution has undeniably provided Wrangler with incredible insights into customer demand for products across their store network.
Who is Wrangler?
Founded in 1947, Wrangler's rich history stems from designing denim for the 'working cowboy.' They eventually became a fashion go-to for Hollywood stars in the 70s and remained relevant ever since.
Ultimately establishing themselves as one of the oldest heritage denim brands in the world, the brand became synonymous with quality. Undeniably striving to create high quality denim that will last a lifetime and reducing impact on landfill.
As a well-respected denim label, stockinstore are undoubtedly thrilled to partner with the Wrangler Australia and True Alliance teams. As a result of working towards improving their overall omnichannel strategy.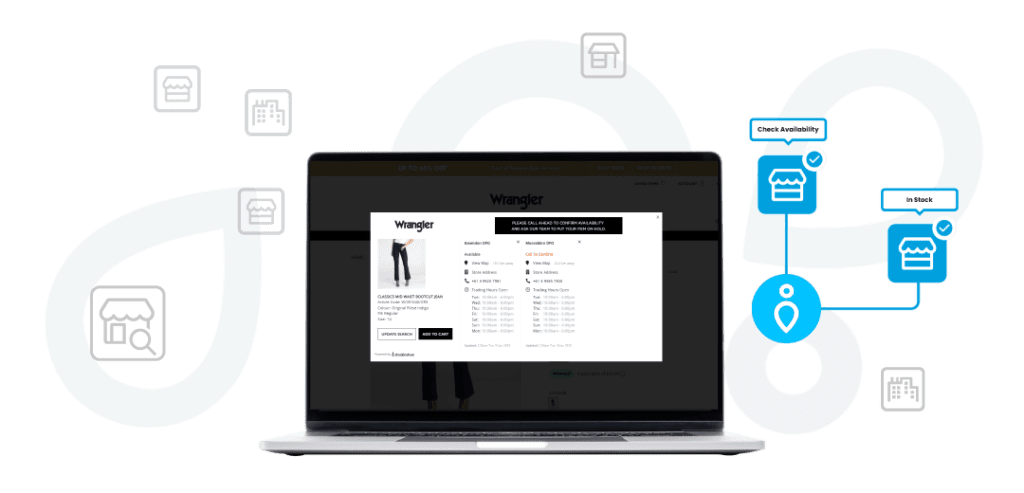 stockinstore are especially pleased to support Wrangler Australia to leverage stock ensuring the entire customer shopping experience is streamlined as efficiently as possible.
Arming their customers with knowledge and access to stock levels in their physical stores online to efficiently utilise their stock.
Interested in implementing inventory visibility for your stores?
Benefits of inventory visibility
Equipped with the Find in Store solution, Wrangler Australia unlocked and above all, increased their eCommerce and omnichannel capabilities. Stemming from immediate inventory management, the solution undeniably provides benefits such as:
Reducing phone enquiries and time spent chasing up stock availability enquiries in-store allowing retail staff to attend to in-store customers more attentively.
Improving inventory management and better future range planning and buying.
Informing future decision-making with insightful reporting on product-specific customer demand by store.
It has been a pleasure working with Ken Kennedy, Mathilde Pollier, and the rest of the True Alliance team. 
Be sure to check out the new range at: https://wrangler.com.au/