For a second time in 3 years, we're excited to announce we were one of the finalists in the Online Retailer Industry Awards (ORIAS) for the 'Best Phygital Initiative' (previously called 'Best In-Store Initiative') with our long-standing client INTERSPORT Australia.
This time we were recognised for the successful evolution of INTERSPORT's omni-channel solutions from Find in Store to Click & Collect (also known as BOPIS Software).
This Online Retailer Industry award specifically highlights excellent examples of technologies and innovations which successfully blend physical with digital to add value for the customer and business.
Being recognised alongside the INTERSPORT team for innovation in physical stores for the second time is something we're proud of – especially as it was launched just before the Pandemic hit enabling INTERSPORT to safely operate a Contactless Click & Collect operation once restrictions were in place.
The Challenge
As a franchise-based business, INTERSPORT Australia has 70+ franchisee-owned stores across the country. What they wanted to achieve was enabling customers to shop online for all items across their network. They needed to find a Click & Collect software that was affordable, flexible and fast to implement. Luckily through our previous work together using our Find In Store solution, they knew stockinstore could handle the complexities that come with a franchise business set up.
The Approach
INTERSPORT Australia had already been been using stockinstore's ship-from-store direct to home, so a lot of the infrastructure was already there to onboard our Click & Collect software (bopis).
Because ease of use was paramount, stockinstore created a streamlined solution that allowed the stores to focus on picking the order, letting the customer know that it's ready for collection and following up the customer if they needed to.
Custom features were also built into it meaning it supported, engaged and encouraged their member-owned stores to come on board with the Buy Online Pickup Instore software.
The Results
Implementing stockinstore's Click & Collect Software has meant that Customers can shop the way they want to shop, online, in-store or both, resulting in increased sales for INTERSPORT's Franchise Members across Australia.
Find In Store and Click & Collect have resulted in improved conversion rates online of over 50-60% and they also see over 20% of all orders now being Click & Collect (BOPIS) orders.
Read more about the success of our Click & Collect software partnership with INTERSPORT Australia.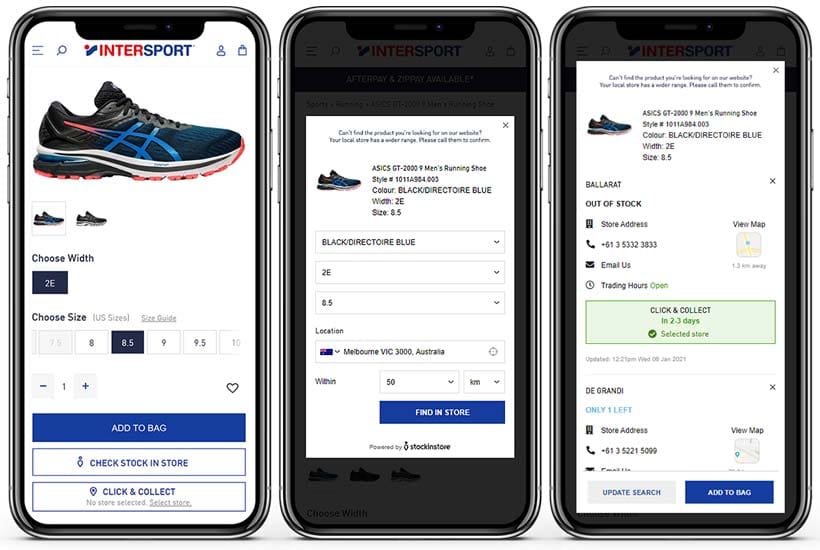 GET IN TOUCH… WE'D LOVE TO CHAT
About stockinstore
stockinstore is unifying eCommerce and physical stores. Developed for retailers, franchises, wholesalers and manufacturers; stockinstore creates an exceptional shopping experience for customers while providing highly valuable insights into customer demand for products across store networks. The award winning technology has continued to bridge the gap between online and in-store through a myriad of 'Find In Store', 'Click and Collect / BOPIS' & 'My Nearest Store eDM Widget' software solutions, and most recently their innovative 'Google Local Inventory Advertising (GLIA) Integration' solution.
Join a growing list of businesses choosing stockinstore including: Scanlan Theodore, YETI, 2XU, T2,  Sheike, Triumph, Sportsgirl, Aquila, Kidstuff, Kookai, Intersport, Nique, Billini, Toyworld and Tentworld.