We're excited to announce stockinstore now integrates with Google Local Inventory Ads to show Google Searchers stock availability in a nearby store.
What are Google Local Inventory Ads (GLIA)?
With over 80% of customers still preferring to browse online and shop in store, GLIA is another effective solution to attract and drive customers into your physical stores!
Google Local Inventory Ads display at the top of Google's search results and showcase a retailer's products,  store information (think contact information, opening hours and directions), and a direct link to the product page for purchase (on your own website, or a Google hosted page).
Using stockinstore, retailers can now also show the product's stock availability in Google.
The immediacy of Google Local Inventory Ads means that with just a few clicks, you can drive more customers into the right store, with the right product.
If you're already spending money on Google Shopping and have a store network, our stockinstore Google Local Inventory Advertising (LIA) feeds will help you maximise 2 of your biggest assets: stock and store network.
5 Benefits of Google Local Inventory Advertising
Immediately show customers if the product they are searching for is in stock in the closest store by promoting your in-store inventory
Drive customers in-store who are ready to purchase
Bring your local stores online by utilising the google hosted store front
If you already have an eCommerce site, you can direct traffic to your own website as well
Measure ROI: Have access to monitor the impact your Google Local Inventory Ads have on foot traffic and in-store sales and, combined with the stockinstore reporting suite, your ability to asses customer demand across your store network will be phenomenal!
We recently set up a Google Local Inventory Advertising feed for 99Bikes and they are now seeing growth in their offline sales as a result of showing their local inventory on Google.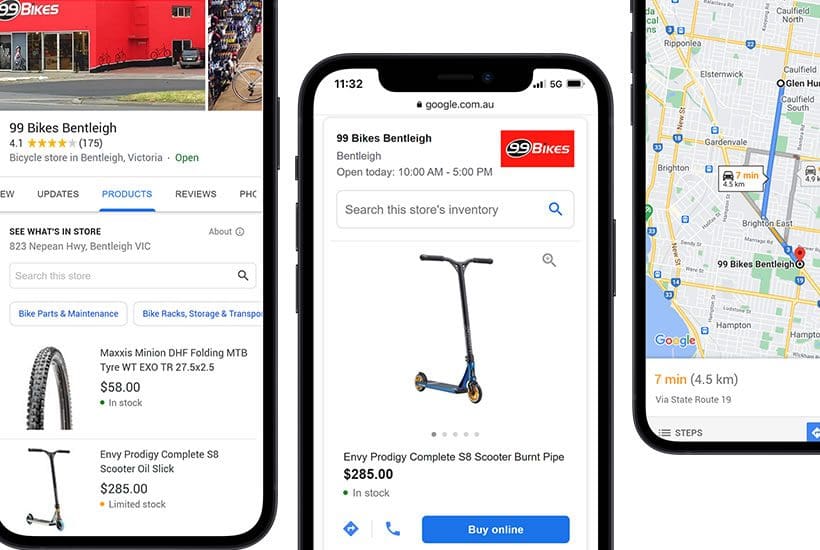 About stockinstore
stockinstore is unifying eCommerce and physical stores. Developed for retailers, franchises, wholesalers and manufacturers; stockinstore creates an exceptional shopping experience for customers while providing highly valuable insights into customer demand for products across store networks. The award winning technology has continued to bridge the gap between online and in-store through a myriad of 'Find In Store', 'Click and Collect / BOPIS' & 'My Nearest Store eDM Widget' software solutions, and most recently their innovative 'Google Local Inventory Advertising (GLIA) Integration' solution.
Join a growing list of businesses choosing stockinstore including: Scanlan Theodore, YETI, 2XU, T2, Sheike, Triumph, Sportsgirl, Aquila, Kidstuff,Kookai, Alice McCALL, Intersport, Nique, Billini, Toyworld and Tentworld.