(Originally published on retail.org.au/, May 4, 2018)
Create a better shopping experience

Retailers lose sales every day when customers walk into store and find the item they are looking for is not available. This happens 60% of the time, and they leave disappointed in the brand and with their shopping experience. If you don't believe it, let us paint you a picture.
A story about your customer Sarah
Sarah decides to indulge in some online shopping while waiting for her friend at a café. She's attending an event this weekend and is still looking for the perfect dress. While looking for some inspiration on Instagram, Sarah discovers a new Melbourne boutique and falls in love with a $300 red lace dress.
Like 82%* of shoppers, Sarah prefers to try before she buys. She wants to feel the fabric and isn't sure about the size and fit. She navigates to the 'store locator' on the boutique's website and finds her nearest store just as her friend joins her at the café. Sarah knows her only chance to try on the dress will be after work today.
She arrives at the store later that afternoon only to be told by the retail assistant the dress is not available in her size. Sarah can't wait for her product to be transferred from another store and having it delivered to her house defeats the purpose of trying it on before buying.
At this point, Sarah leaves the store disappointed and frustrated because she crossed town for nothing. She has no choice but to buy her dress from another store.
From a retailer's perspective, this is (1) a lost sale and (2) a disappointed customer.
For the consumer, this is lost time and trust and they are less likely to shop at that retailer again.
As customers ourselves, we can empathise with Sarah's situation. We've all been into a store shopping for clothes, accessories, homewares, make up or technology, only to be told the product is out of stock.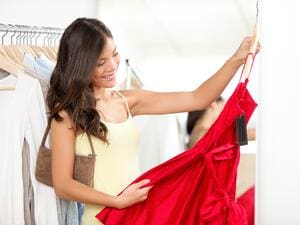 Making your customers come back time and time again
So what if you could change this scenario to create a happy retail ending for everyone?
Imagine Sarah is on the retailer's website, finds the red dress and within 2 clicks she is ALSO able to:
Check the stock availability of the dress in her size at any of her nearest stores;
View the distance and directions to each store;
Check the opening hours; and
Contact the store and ask them to put it aside for her until she has time to collect it.
Even with her busy schedule, Sarah will be able to walk into the right store with the full knowledge that the red dress is there for her to try on. She may even accessorise the look with some wedges or a bag. As a retailer, you have a satisfied customer with a seamless shopping experience, thanks to the real-time stock visibility of stockinstore®.
Don't lose sales to your competitors
In today's fast-pace world, customers expect their path to purchase to be as simple, clear and efficient as possible. They have no time or patience to wait and they want your products now. If you don't provide it, another retailer will.
You need a solution that helps you:
get the right product in front of the customer
at the right time
every time
* Telstra study by Deloitte Touche (2012) – How you can join the onmichannel shopper in transforming Australian retail.
About stockinstore®
stockinstore® is bringing the best of the online and offline words together for retailers and consumers by creating a seamless, omni-channel experience and by implementing real-time stock visibility. It was developed for retailers of all sizes to create a seamless shopping experience for customers.