We're excited to have launched our Find in Store solution with another iconic brand, Lee Jeans Australia. Improving their omnichannel strategy and customer experience.
Inventory visibility has unquestionably improved Lee's customer experiences while giving them fantastic insights into product demand across their network of stores.
Who are Lee Jeans?
Lee began it's journey over 130 years ago in Kansas USA, pioneering many of the denim fashion innovations and trends over the decades.
Today, Lee has defined a unique place within Australia and New Zealand moving with progressive trends. Particularly in music, fashion, and pop culture – loved by generations of trailblazing icons.
Devoted to style, quality and a spirit of independence, Lee has built a brand committed to the planet and their people. Embracing ethical, sustainable fashion, building a safe workspace, and championing the changemakers in the industry.
The retailer continues to remain relevant with fashion trends while establishing their own distinct identity in the market. The company knows its customers well enough to become a wardrobe essential.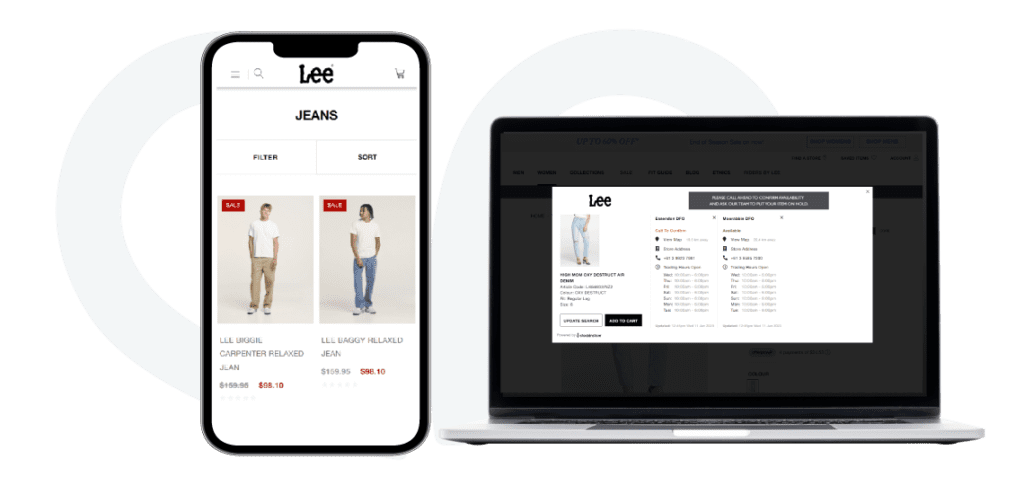 Improving inventory visibility and forecasting
Despite the ever-changing landscape of the retail industry, Lee quickly understood the importance of technology. Suddenly, it became embedded into our daily lives due to its continued development.
Our online and offline shopping habits are becoming increasingly entwined creating the need for omnichannel strategies. Certainly, for retailers, it is more apparent to remain competitive in the market.
A better experience for your customers
stockinstore successfully launched Find in Store on the retailer's eCommerce platform – Salesforce Commerce Cloud. Now equipped with close to real-time stock visibility for their customers, simultaneously increasing conversions in-store and online.
Like Lee, stockinstore recognises how critical it is to maintain a competitive edge in the quickly changing retail industry. Influenced by the growth of eCommerce, the implementation of Find in Store allowed the retailer to drive shoppers to the right stores, benefiting both the retailer and the customers in the long run.
Want to improve your customer shopping experience?
Interested in boosting your omnichannel strategy?
stockinstore are thrilled to partner with the Lee Jeans Australia and True Alliance teams as part of their omni-channel strategy.
It's once again been a pleasure working with Ken Kennedy, Mathilde Pollier, and the rest of the True Alliance team.
Check out the Lee Collection