We are thrilled to welcome Nude Lucy to the stockinstore family.
Nude Lucy, a leading Australian fashion brand, were looking for a store locator solution that would not only help customers find stores and contact details easily, but just as importantly provide a fantastic brand experience.
Nude Lucy: A Fashion Icon
Nude Lucy is known for its high-quality, minimalist, and contemporary clothing made by women, for women. Founded in 2010, the brand has quickly grown, thanks to its commitment to providing modern, versatile fashion pieces.
The fashion retailer is a member of the Accent Group, a leading digitally integrated retail and distribution business in the Apparel and Footwear performance and lifestyle market in Australia and New Zealand. The group recently opened their 800th store thanks to Nude Lucy.
With over 800+ stores and 34 brands including Dr. Martens, VANS and Timberland. In addition to exclusive distribution rights for 15 international brands across Australia and New Zealand.
With 26 stores across Australia, Nude Lucy has a substantial retail presence, making it a go-to destination for women's casualwear.
The Challenge: A Customisable and User-Friendly Store Locator
Knowing the importance of a robust store locator tool, Nude Lucy sought a solution that would align seamlessly with their brand, and ensure a streamlined and intuitive user experience for their customers.
The retailer aimed to empower shoppers to effortlessly locate nearby stores and enjoy a seamless shopping experience. With this vision in mind, they turned to stockinstore for an easy to implement solution that would meet their requirements.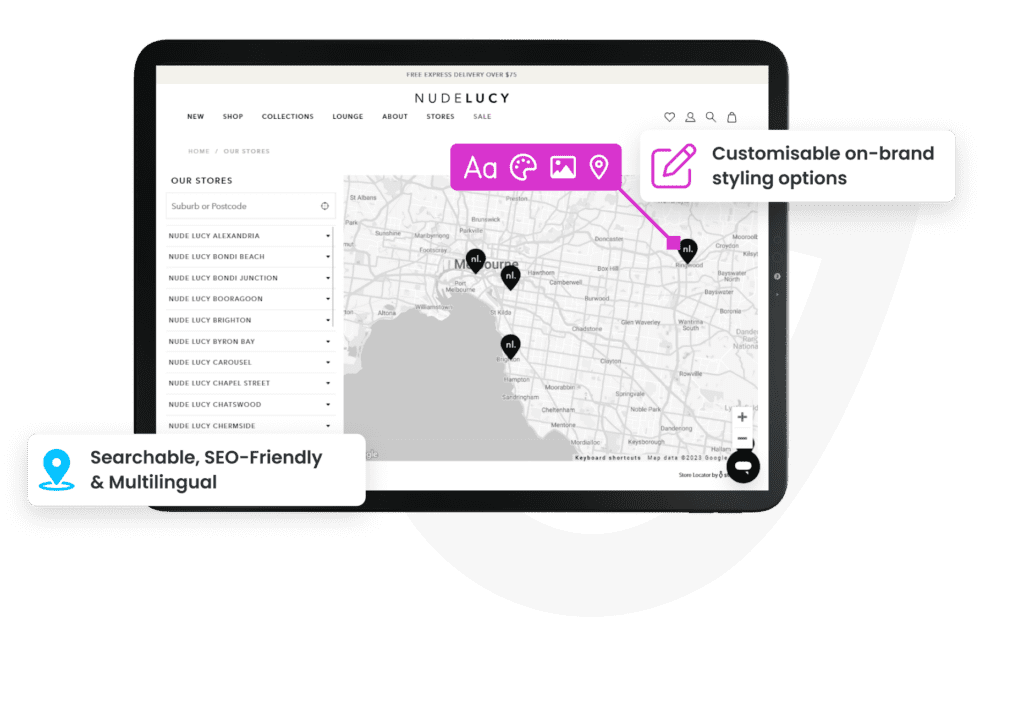 Why Nude Lucy Chose stockinstore
Nude Lucy's decision to partner with stockinstore was grounded in several key factors:
Customisation: stockinstore allows Nude Lucy to tailor our store locator solution to match the brand's unique brand identity, ensuring a cohesive customer experience across the site.
User Experience: With a user-friendly interface, stockinstore makes it easy for Nude Lucy's customers to find nearby stores, driving more foot traffic into physical stores.
Seamless Implementation: stockinstore has seamlessly implemented Store Locator on Shopify Plus, with an individually branded page for each store.
Easy-to-Use: stockinstore's platform allows Nude Lucy to easily keep store information up to date including trading hours and public holidays across all 26 locations.
Welcome to the stockinstore family, Nude Lucy! It's been a pleasure working with you – we can't wait to see what's next…
Want to talk omnichannel solutions?
Join Nude Lucy and a growing list of leading retailers using stockinstore's solutions.