When Australia's largest bike retailer 99 Bikes needed to improve customer engagement and web functionality, they looked beyond their DIY find in store solution and replaced it with stockinstore.
"The DIY approach for the Find In store solution we implemented wasn't really working for us", says Owen McLeod, COO at 99 Bikes.
A Find in Store solution that works hand in hand with Click & Collect
"We needed a solution that could co-exist with Click & Collect, because we know that when our staff get involved, it leads to a better outcome for our customers.
"And that solution was stockinstore." Owen says stockinstore has delivered great improvements to website functionality. "Our customers can check where a product is in stock and receive an accurate estimate of the time it will take to have their Click & Collect order ready to collect, per location.
"Giving customers this extra information helps set expectations before orders are placed and reduced the number of complaints related to Click & Collect orders."
Reduce transfer costs
"stockinstore also helps reduce the amount of inefficient store-to-store product transfers between our stores, as some customers are willing to drive to a store that's further away if they know the item is already in stock, and they can collect it quicker."
Andrew Maver CEO of stockinstore says they first spoke to 99 Bikes 12 months ago when they were redeveloping their website.
"Back then, they decided to implement their web developer's solution," says Andrew. "So when 99 Bikes made the decision to replace their existing find in store solution with stockinstore it was great recognition that what we deliver is a more advanced and robust solution."
Easy and fast integration
Owen says the stockinstore implementation process was fast and easy. "The team worked directly with our ERP provider to build the API integration and we were given clear updates at each stage of the implementation process.
"Between signing the contract and having stockinstore on our website it was exactly two weeks which is exactly as quoted."
Check out stockinstore in action at https://www.99bikes.com.au/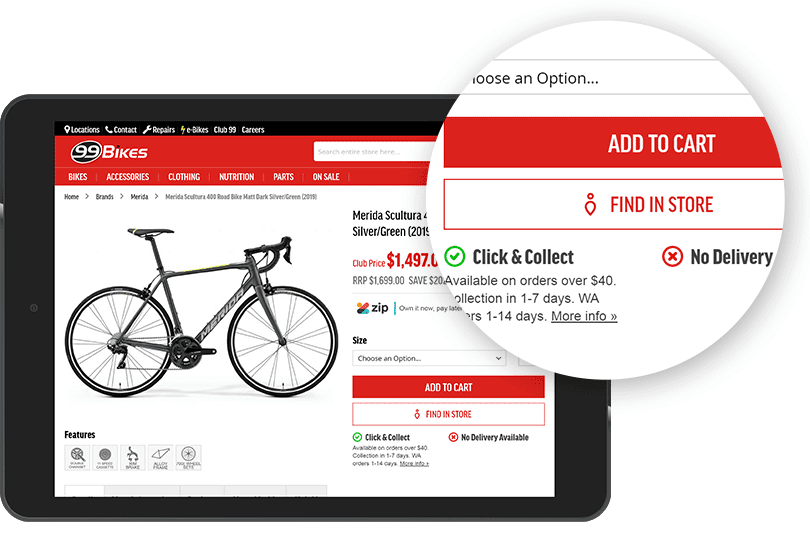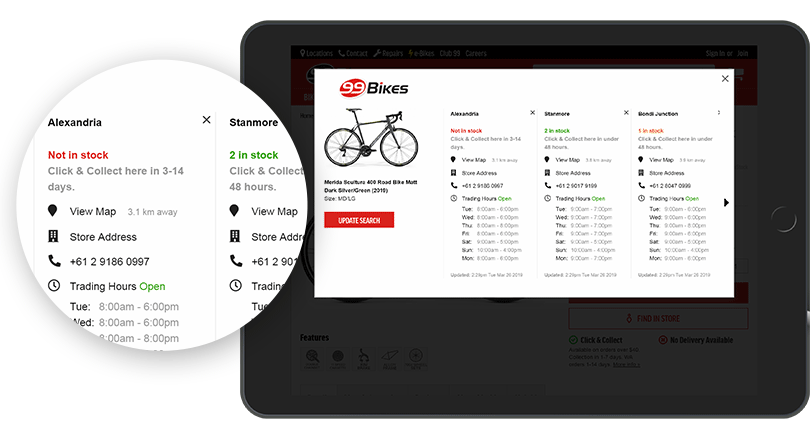 About stockinstore
stockinstore was launched in 2016 as a way for retailers to tell online shoppers which stores nearby have the item they're looking for. Since its launch, this ground-breaking technology has continued to bridge the gap between online and in-store; and gives retailers valuable insights into customer demand for products across their store network. To learn more about stockinstore and join a growing list of retailers like  Kookai, Intersport,  Nique, Billini, Bags to Go and Tentword, who are all using stockinstore to improve their retail businesses, visit https://www.stockinstore.com
Media contact:
Rebecka Finn, [email protected]