In a world where innovation knows no bounds, retail is continually reimagining the shopping experience. And in the heart of Campbelltown, NSW,
The Party People
, Australia's leading costume and party supply store, are set to redefine the retail landscape, just in time for the spooky season. This story unfolds at the intersection of technology and imagination, where an incredible concept is set to revolutionise the way we shop: the shoppable Magic Mirror.
Dean Salakas, head of The Party People, says "Augmented reality mirrors are floating around, but we have taken them to another level by adding checkout functionality to them. It's my understanding that globally this has never been done before."
Imagine standing in front of a mirror that's not just a reflection but a portal to a new shopping experience. The shoppable Magic Mirror combines the magic of augmented reality with the convenience of eCommerce, allowing customers to virtually try on costumes, instantly make a purchase, and even choose the option of having their items delivered right away, or ready for pick-up via Click & Collect. This project is about more than costumes; it's about bridging the gap between online and in-store shopping and revolutionising the way we engage with retail.
The significance of the Magic Mirror
Geoff Luyk, Head of Customer Success at Starshipit, highlights the true significance of the Magic Mirror — "It's a testament to the power of thinking outside the box, demonstrating that innovation can not only engage The Party People's customer base but also spark inspiration throughout the entire retail network."
The mirror itself doesn't sit inside a store but can be placed at a variety of locations — in this case, Macarthur Square, the largest shopping destination in Sydney's south-west by retail partner, Lendlease. But it can be set up as a stand-alone retail activation, after-hours in a shop window, or even on hoarding for a store under construction, and practically anywhere with space for a mirror.
However, the true wonder of this Magic Mirror lies in its checkout functionality. It's not only about trying on costumes; it's about selecting, purchasing, and receiving them, all within the mirror's augmented reality realm. This innovation challenges the norms of shopping and blurs the lines between physical and online retail, and here's why it's making waves:
For Customers:
Personalised Shopping: The mirror offers a highly personalised shopping experience where customers can virtually try on costumes, ensuring they find the perfect fit and style.
Convenience: Shoppers can seamlessly explore a wide range of options without the need to visit multiple stores or browse countless websites.
Instant Gratification: Instant checkout means you have the option to have your chosen items delivered to your doorstep, potentially before you even get home, or conveniently pick it up in store using Click & Collect.
For Retailers:
Increased Sales: The shoppable Magic Mirror has the potential to significantly boost sales by providing customers with an engaging and efficient shopping experience.
Enhanced Inventory Management: Retailers can better manage their inventory and gain valuable insights into customer preferences and trends.
Improved Customer Engagement: This innovative technology can attract and retain customers, creating a buzz and starting conversations throughout the retail network.
Pioneering with partners – the magic behind the mirror
The impressive features of the Magic Mirror are a symphony of innovation, brought to life through collaboration with a select group of tech partners. Each partner contributes their unique expertise to weave together this seamless shopping experience.
Shopexp
ShopExp is the wizard behind the augmented reality tech and mirrors, enabling customers to go beyond the boundaries of traditional shopping. With their expertise in AR, customers can immerse themselves in a world of costume possibilities, selecting the perfect look with unparalleled engagement.
"AR has already proven to increase buying confidence and conversion rate both in-store and online, and now by providing checkout, delivery, and endless aisle it will be a game changer for the future of shopping experience and also give retailers another channel to sell anywhere, anytime." Chandan Panda, CEO of ShopExp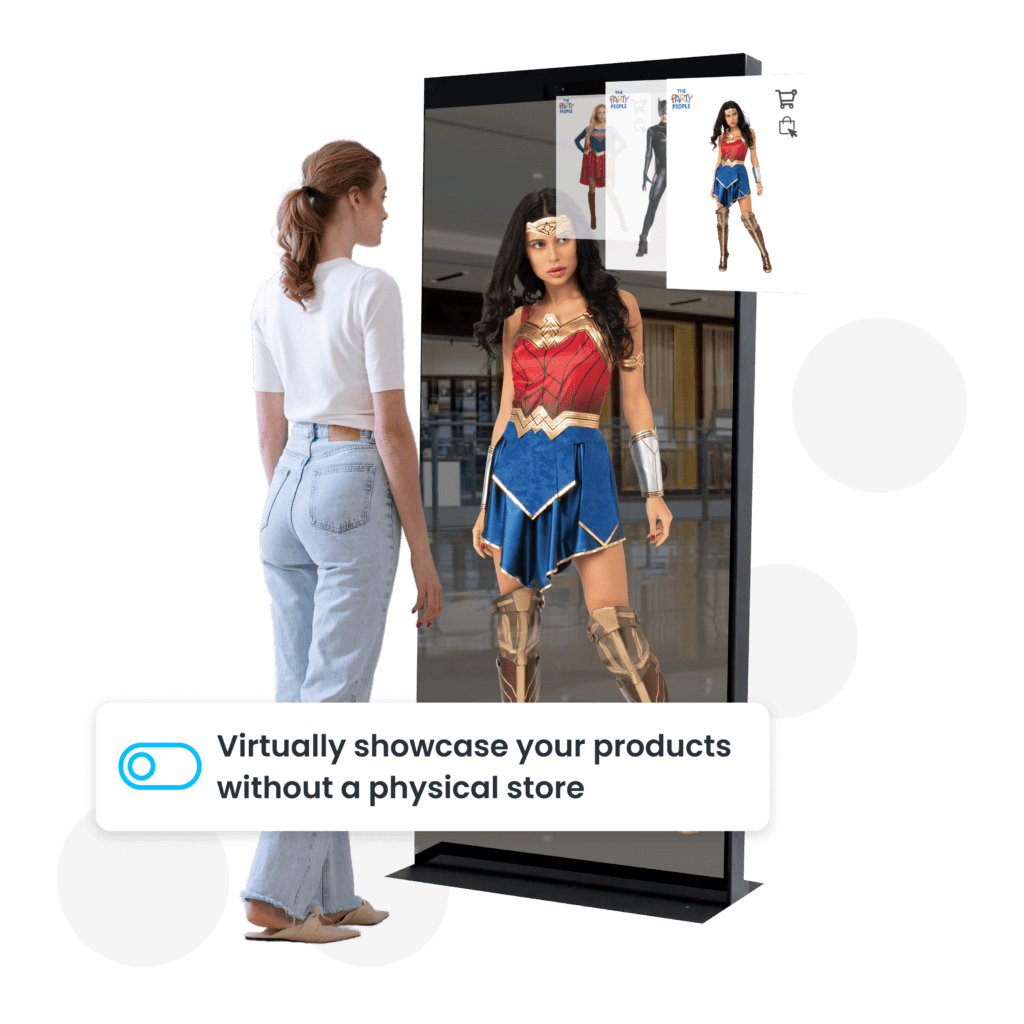 stockinstore
stockinstore plays a pivotal role, providing Ship from Store and Click & Collect solutions with inventory and order management. This ensures that when customers select their perfect costume, the process from browsing to delivery is swift and precise.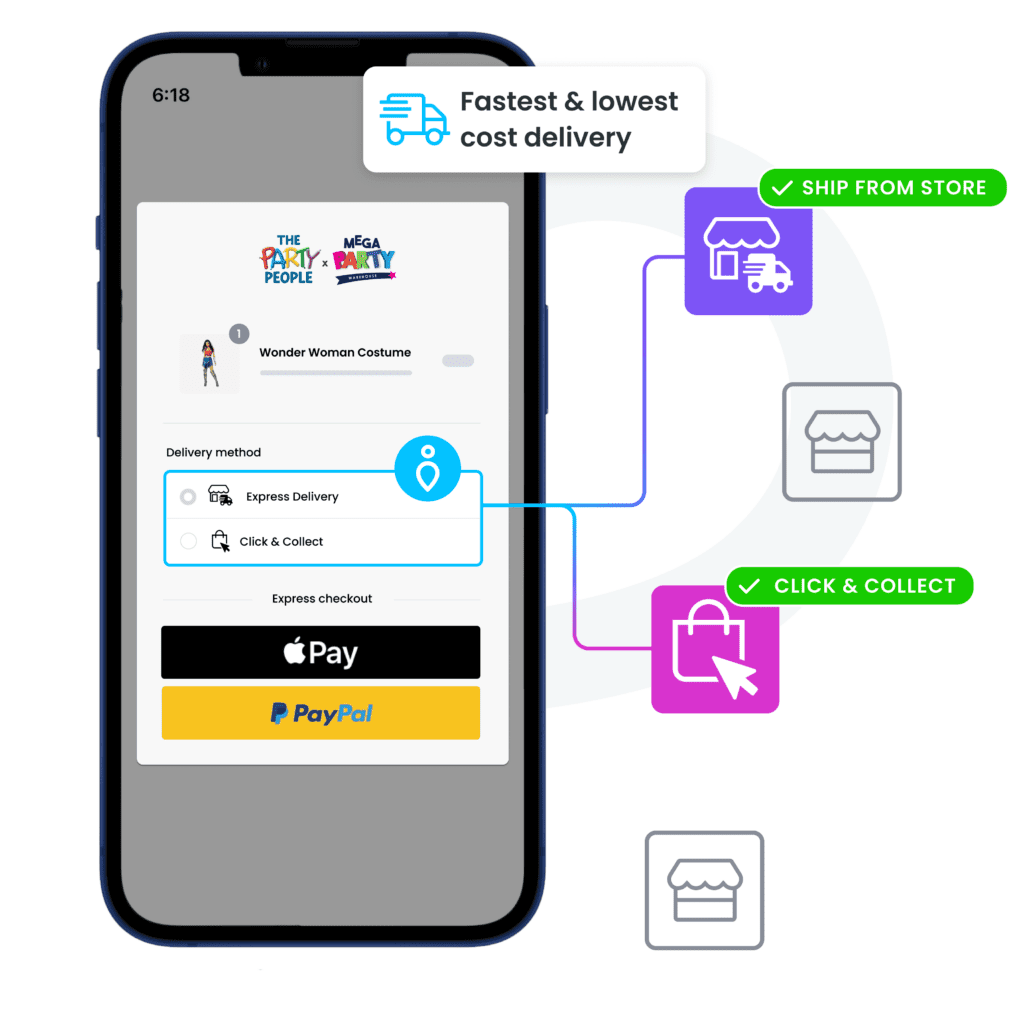 The Magic Mirror project was a perfect fit for stockinstore – aligning with everything that we do around convenience, shopping, multi-channel and omnichannel solutions. More importantly, to be able to leverage retailer's stock that's sitting in a store nearby.
"This project resonates with our overarching goal of maximising stock usage by allowing customers to purchase items from nearby stores. In terms of our mission and values, we prioritize new and innovative ideas, when they have a solid foundation hold success in the marketplace" Andrew Maver, CEO & Co-Founder at stockinstore
Starshipit
Bringing another key capability to the Magic Mirror project, ensuring a seamless shipping experience for customers. Orders placed through the AR mirror activation come through to Starshipit, where they are processed, shipping labels are printed, and tracking notifications are sent to keep customers informed about the status of their delivery.
"What truly excites us about the Magic Mirror project is seeing how retailers can break free from convention and embrace innovative ways to connect with and captivate their customers." Geoff Luyk from Starshipit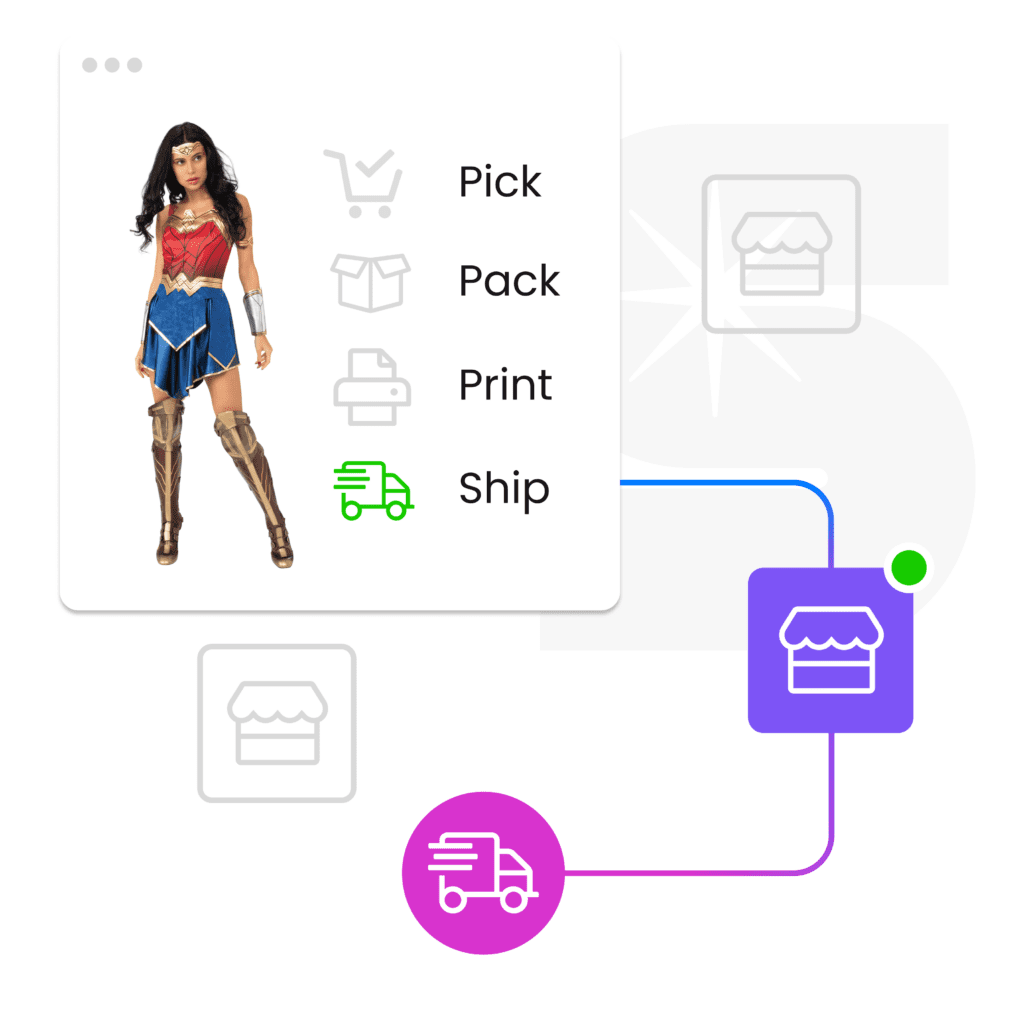 Uber
Uber adds the magic touch of lightning-fast delivery. As shoppers finalise their purchase, Uber ensures that their chosen items are on their doorstep in record time, preserving the excitement of their new costumes.
"Try it, buy it, own it – all within 2 hours. We're thrilled to be part of a project that allows customers to have items delivered in an innovative and speedy way." Louis Nuccitelli, Retail Partnerships Lead at Uber
This groundbreaking concept, brought to life by The Party People and a collaborative effort with the partners involved, offers a unique and engaging shopping journey. It seamlessly connects physical and online retail, providing customers with highly personalised experiences, and retailers with enhanced sales opportunities and improved customer engagement.
What's next for the future of the Magic Mirror
The Magic Mirror, with its augmented reality wizardry and checkout functionality, invites us to imagine a world where convenience, personalisation, and instant gratification are at our fingertips, revolutionising the way we engage with retail.
As stockinstore's Andrew Maver concludes, "The future of the Magic Mirror is undoubtedly endless. We see this as a versatile solution that shopping centers can adopt. Introducing it to attract new or potential tenants, or offer it to existing tenants looking to showcase their latest arrivals or fashion items. . This is why we want to share this technology with retailers because each retailer may have unique ideas on how to utilise it."
Redefine your retail experience
Want to take your omnichannel solutions to the next level? Join our growing list of retailers, franchises and wholesalers.