Before you get sidetracked by the grand promises of development agencies, or contemplate if you should build your own Click & Collect solution – you need to ask yourself this: Are you in the business of software development or doing what you do best?
There is no doubt Click & Collect is going through explosive growth. As consumer behaviour shifts towards convenience and time efficiency, Click & Collect sales have grown by 107%. In the US, it's a $83.47 billion increase in total revenue.
However, only 10% of retail eCommerce use this fulfillment method.
In Australia, consumer behaviour reports that 72% have used Click & Collect. It's faster than delivery, cheaper, and more convenient. These are the traits you want to be associated with your products and brand – not software development.
The hidden cost of building your own solution
The main reason some businesses opt for building their own Click & Collect solution are:
they get to own the software
there are no upfront per-transaction fees
have total control over how things are done
While these reasons may seem great on the surface, there is an upfront cost of building the software, integrating it into the current systems, maintenance, infrastructure, and support required for non-technical staff.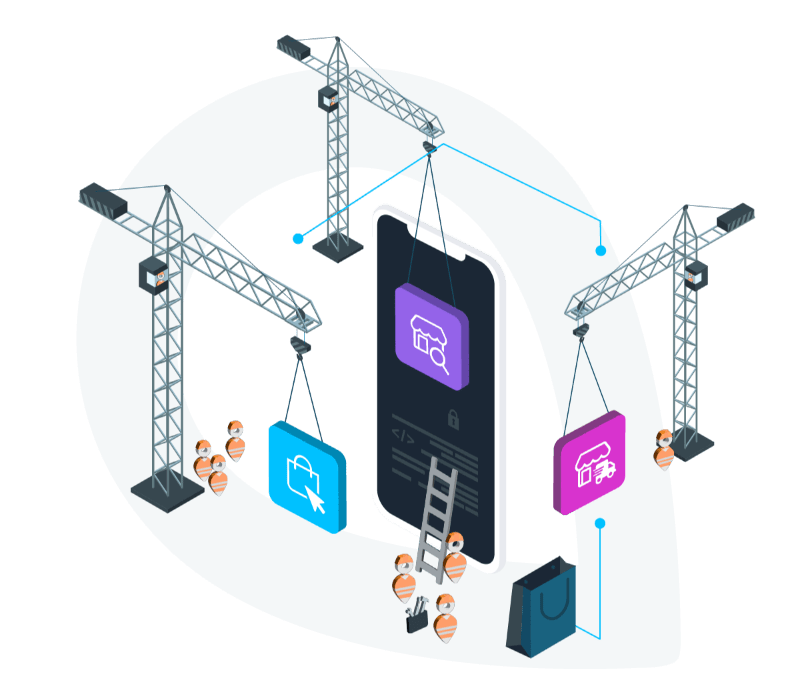 Let us do the heavy lifting.
We handle building the software, integrations into your current systems, maintenance and support. 
There is also the cost that comes with the planning stage. The architecture and design of a system take up the majority of the development time. It also often requires unravelling any complexities, project management, and personnel management. All these things consume resources, mainly time, but time = money.
The average time it takes for custom software to be built is approximately 3 to 6 months depending on the solution. This doesn't include the design and requirements gathering stage, which can also require time from other personnel from within the business.
The average software developer's salary in Australia currently sits at around $90,000 to $110,000. Depending on the scope and size, you probably need more than one developer. In addition to this, a project manager may be required to keep everything on track.
External software development agencies may take the task of project management and developer resourcing away from you – but the timeline is still the same, and possibly cost you more.
Building your own software is like building a house – after it's built, there are ongoing tasks and costs such as infrastructure, ability to scale to seasonal loads, ongoing tech support, maintenance, software and hardware updates, upgrades and repairs against new security vulnerabilities.
With all this in mind, the initial total bill for building your own Click & Collect solution can range from $70k to $250k for the first year – minimum. It's not hard for the billable hours to stack up. Over time, your custom-built Click & Collect solution can easily become a sunk cost which is inflexible to upgrade &/or incompatible with new systems, locking you into legacy software while the world of eCommerce speeds along without you.
You're already busy enough running and expanding your business, do you really want to add software development and maintenance to the list?
The alternative solution: Managed hosted Click & Collect for your stores
The alternative to building your own Click & Collect is to use a solution provider. The major benefits of taking this approach include:
Time: You get your time back to work on what's most important to your retail business
Price/Value: You get a clear price for the service, which is often with a much more affordable start-up cost to implement and allows you to prepare ongoing monthly budgets for the service
ready to go vs. months of development time & along with any back and forth between different layers of the business to gather requirements
Experience: You are buying solution experts who have the collective benefit of past experiences
Regular new features and enhancements, bug fixes and ongoing support
How does a Click & Collect solution built by a solution provider work?
Third-party Click & Collect solutions work by providing a ready-made platform with infrastructure for retail businesses to offer their customers a seamless Click & Collect experience. These solutions typically involve the following steps:
Integration: The solution provider integrates their Click & Collect solution with your existing systems, such as your eCommerce platform, inventory management system, and point-of-sale system.
Customisation: Some solution providers allow you to customise the Click & Collect solution to align with your branding and business requirements. This includes choosing pickup locations, setting availability times, and defining order fulfillment workflows.
Customer Ordering: Customers browse your website or mobile app, select products they want to purchase, and select a convenient pickup location by choosing the Click & Collect option during checkout and/or from the product page.
Reporting and Analytics: SaaS solutions may provide you with comprehensive reporting and analytics capabilities. This allows you to track Click & Collect order volumes, pickup location performance, and other key metrics to optimize your Click & Collect operations.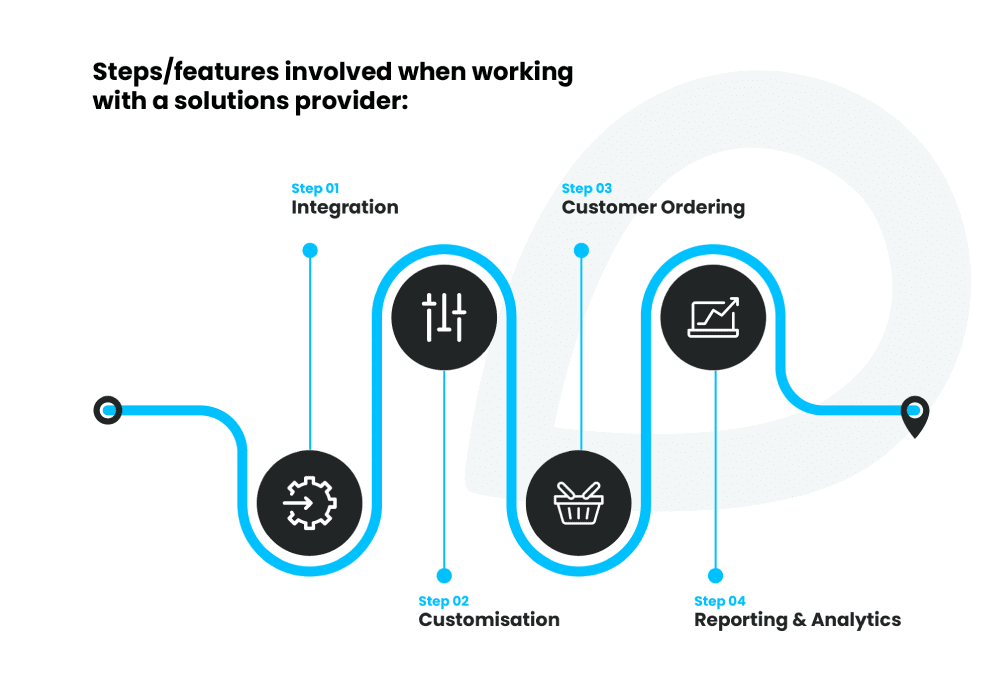 With a prebuilt Click & Collect solution, you should get all these features from the get-go.
With an in-house solution, you'd need to go through the process of planning, preparing specifications, and architecture, and then building the actual software. New features and enhancements are not part of the solution, are slow to implement and costly.
stockinstore can provide you with the Click & Collect solution you need
As an expert Click & Collect solution provider, we've helped major brands such as Sportsgirl, Kookai, Nutrition Warehouse and Colette Hayman boost their online conversion rates.
After implementing stockinstore's Click & Collect solution, Toyworld achieved a 118% boost in online conversion rates. Over the past year, Toyworld has experienced a 198% increase in Click & Collect sales and we've facilitated the process since October 2021.
stockinstore let's you focus on what you do best – Retail, not software development – that's what we're here for and have a solution suite that's ready to go for you. Our job is to help you sell more in-store and online without the hassle of having to set everything up. We can do all that for you.
So what are the perks of our solutions?
We come with support and staff at no additional cost: It's like having your very own in-house dev team without the price tag
Our solution suite is modular: Just think Lego. We've got more than just Click & Collect, there's also Ship from Store, Find in Store, Where to Buy, Store Locator, Google Local Inventory Ads, a special trading hours module, and customer demand data reporting. Mix and match, add as much as you need when you need it.
Portability: Our Click & Collect solution works with all major e-Commerce platforms, including Shopify Plus, BigCommerce, Salesforce Commerce Cloud, Woo Commerce, SAP Hybris, Neto, IBM Websphere, EPI, and Adobe Commerce / Magneto. We also support custom integration for POS /ERP Systems. This means that you don't need to completely re-build your Click & Collect solution if you change systems or expand to different ones, we are able to support it.
New Features & Enhancements: Providing Click & Collect solutions for a range of retailers means we are constantly adding new features and enhancements, allowing you to take advantage of these developments.
Ready to launch in 6-8 weeks: from the moment you decide to use stockinstore, we get our team of developers to sort out the finer technical details and set everything up to match your needs. You can have everything up and running with minimal effort.
We are fast, flexible, scalable, and affordable – everything that the e-commerce side of your business can benefit from.
Drive Foot Traffic Into Stores
Want to improve your omni channel strategy? Join our growing list of retailers, franchises and wholesalers.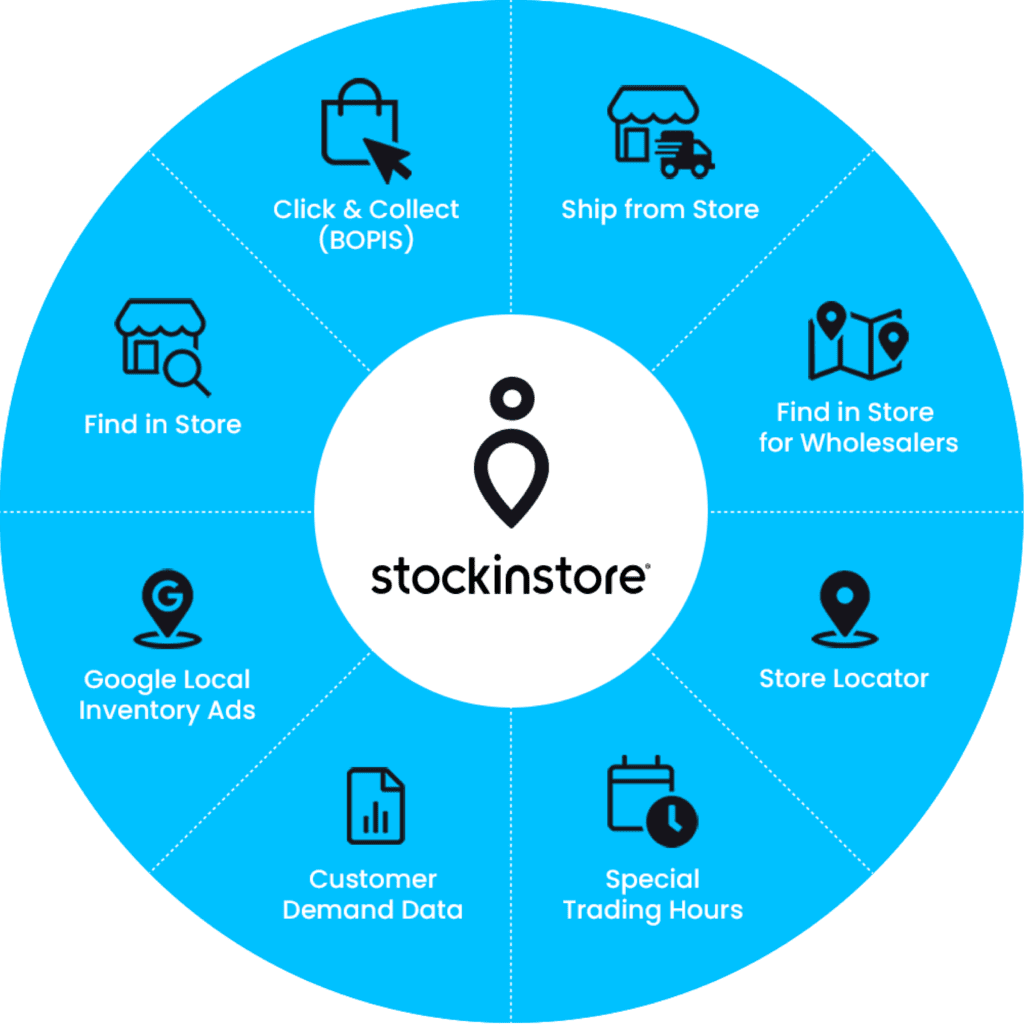 Leave Software Development Behind: Opt for a Ready-to-Go Click & Collect Solution
With our ready-made solution, you can eliminate the upfront costs, complexities, and ongoing maintenance associated with in-house development.
You gain access to a team of experts who have already fine-tuned the Click & Collect process, resulting in improved customer satisfaction and increased conversion rates. Plus, you can customize the solution to align with your brand and specific business requirements.
The choice is clear: it's time to leave software development behind and embrace a managed Click & Collect solution. Focus on what you do best – running and expanding your business – while letting our experts handle the technology. Book a chat today and get started.