stockinstore is thrilled to announce we were awarded 'Best In-Store Retail Technology Solution' at the 2019 NORA Solution Provider Excellence Awards.
Selected from 17 technology solution providers, honoured is an understatement! The NORA awards attracted hundreds of nominations and in the weeks leading up to the event, thousands of retailers voted.

Delivering an exceptional shopping experience
stockinstore brings the best of the online and offline worlds together for retailers and consumers by creating a seamless, omnichannel experience. Developed for retailers of all sizes, it creates an exceptional shopping experience for customers while providing real-time stock visibility.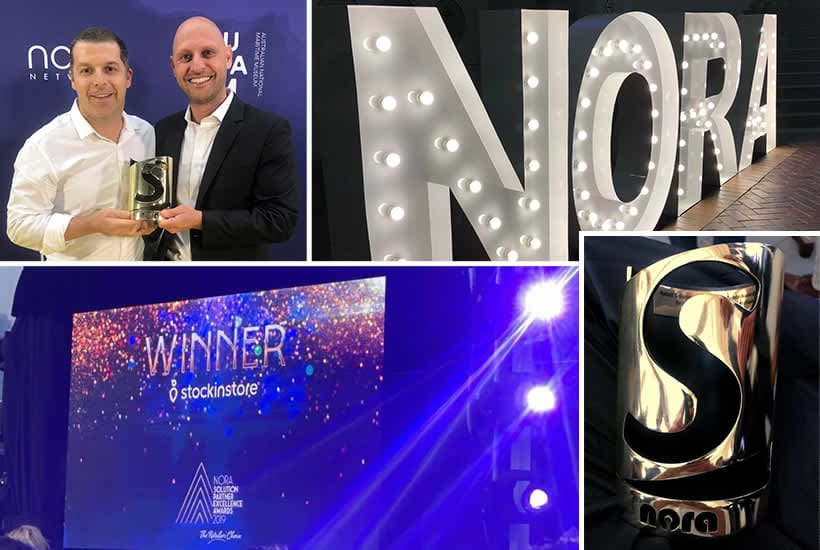 On speaking to our CEO and Co-Founder Andrew Maver he said –
"We're so thrilled to have been awarded NORA's Best In Store Retail Technology Solution 2019 and would like to give a big thanks to our retail clients for supporting us and to all the retailers who voted for us".
stockinstore Co-Founders Andrew Maver and Gil Blackstone have worked together in eCommerce for over 15 years and they launched stockinstore in 2016.
Andrew knows eCommerce inside-out: from online to in-store, backend to frontend, systems to processes and even marketing. Gil works across a range of areas including strategy, marketing and design, with a strong focus on retailers' brand and customer experience. Both Gil and Andrew are always working on strategies to drive client success and together, bring to the team unlimited amounts of energy and a passion for everything they do.
"It's wonderful to be voted for and recognised by the retailers, those who are already seeing the benefits this solution provides for the customer, but also for themselves from a reporting point of view – in terms of the data insights," says Andrew. "We're immensely proud of the win and excited to continue our work with Australian and international retailers, helping businesses of all sizes, across all industries, to continue to meet their customers' expectations."
Paul Greenberg, NORA's Founder spoke with Andrew at the NORA event
Commenting that, "As an old retailer myself, and speaking to our retailers in the (NORA) Network, the best kind of solutions – the kinds we love – are solutions that make us a ton of money and it strikes me that this is exactly what you do."
"Absolutely, it's all about solving the problem of having the right product, in the right place at the right time," Andrew replied
Find out more: stockinstore.com
About The NORA Awards
"The NORA Solution Provider Excellence Awards were born in 2018 from a desire to celebrate the achievements and hard work of the Solution Provider community in Australian Retail," says NORA Marketing and Events Manager, Brittany Frankland.
The awards ceremony was held in the beautiful Maritime Museum in Sydney's Darling Harbour on 30 October 2019 and hosted the very best of Australia's retailers and retail solutions providers.
Find out more about the NORA Awards here: https://noraawards.com/
About stockinstore
stockinstore is unifying eCommerce and physical stores. Developed for retailers, franchises, wholesalers and manufacturers; stockinstore creates an exceptional shopping experience for customers while providing highly valuable insights into customer demand for products across store networks. The award winning technology has continued to bridge the gap between online and in-store through a myriad of 'Find In Store', 'Click and Collect / BOPIS' & 'My Nearest Store eDM Widget' software solutions, and most recently their innovative 'Google Local Inventory Advertising (GLIA) Integration' solution.
Join a growing list of businesses choosing stockinstore including: Scanlan Theodore, YETI, 2XU, T2, Adairs, Sheike, Triumph, Sportsgirl, Aquila, Kidstuff, Early Settler, PETstock, Kookai, Alice McCALL, 99 Bikes, Intersport, Nique, Billini, Toyworld and Tentworld.
Media Contact
Rebecka Finn, [email protected]