Retail CEO shares his thoughts and advice on implementing Click and Collect (C&C) and why post-lockdown consumer-behaviour will continue to look different.
The impact of the pandemic for retailers around the world has been disastrous but for Franco Godinich, CEO of Toyworld NZ and his members, a swift response and implementing an accelerated rollout of Click and Collect (C&C) turned the situation into a growth strategy for the franchise. "We've actually done Christmas numbers through March, April, May. It's absolutely nuts!"
The brand had planned to implement C&C as part of its migration from Magento to Shopify in June/July 2020 because it had always been a long-term objective for the business.
Godinich never considered an in-house approach. "It was never our intention to try and do it in-house, purely because of the complexity of our member–business with multiple POS systems and integrations. It would have been a nightmare."
However, the COVID-19 restrictions in New Zealand meant Toyworld stores could no longer trade as normal. This proved to be the catalyst for Godinich to reach out to stockinstore to urgently discuss fast-tracking the plan, to give his members the opportunity to continue to trade despite the ongoing COVID-19 restrictions.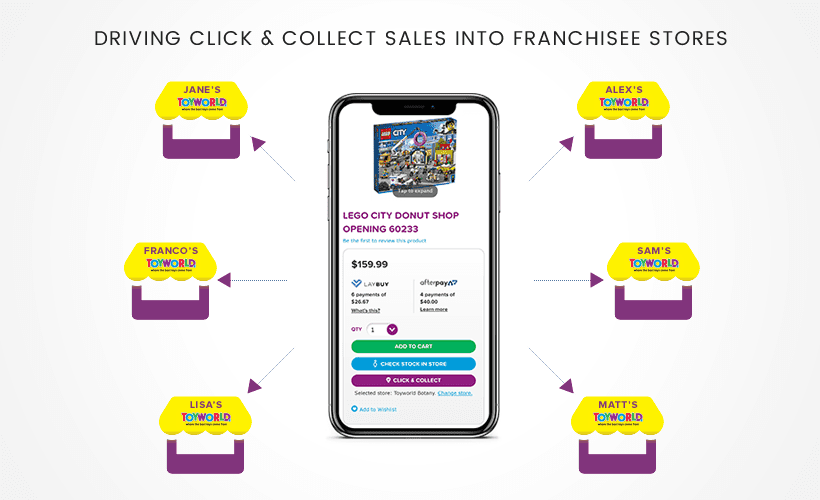 Invest in retail technology
In the middle of April 2020, Godinich contacted stockinstore CEO, Andrew Maver to ask how quickly they could rollout C&C on their existing Magento 1 platform to their 25 member-owned stores across New Zealand.
Partner with a Click & Collect / BOPIS provider who offers a flexible and agile approach
Given the scheduled change of platform from Magento to Shopify, stockinstore needed to deliver a C&C / BOPIS solution that would enable the toy retailer to fast track it into Magento while still being, as much as possible, transferable to Shopify when they migrate.
Godinich is full of praise for the stockinstore team. "With stockinstore, it literally is, "go, go, go!" until it's finished. Their team are experienced. They know what to do, they know how to do it, and if they don't, they'll find a solution to make it happen. "I still can't believe we did it in just 10 days, from initial conversation to launch".
Build trust
Customers were quick to respond positively to the new service. The launch happened late evening (New Zealand time), and within minutes they had received their first Click & Collect order. It was processed and ready for collection the next morning.
Toyworld's CEO believes other brands will enjoy the same success if they have fostered trust and can prove a commitment to data security and exceptional customer service.
Competitive advantage over the bigger brands
After the highly successful implementation, Godinich and his team saw an opportunity to push the capabilities of their new Click and Collect service and create a point of difference that the big brands seem incapable of replicating.
"We've actually moved to promoting 1-hour Click and Collect now. That's something we've done purely because there's a lot of publicity with the 'Majors' really struggling with fulfilment and Click and Collect. Couriers are inundated and some Click and Collect orders are taking over two weeks because they are shipping things from a distribution centre to a store, and that just doesn't work."
The experienced CEO continues, "So we said, "Let's take advantage [of this situation]. Let's go for a 1-hour Click and Collect and we might actually smash 'em!"
And they did. Over 40% of all transacted Toyworld NZ orders are now Click and Collect and the numbers are "astronomical."
Change is here to stay
Godinich believes the pandemic will have a lasting effect on consumers and the way they choose to shop. "It's going to change behaviours, and we've seen it through our sales numbers. Online numbers have gone through the roof!"
Integration and the customer experience
"The general retail trends have been brick and mortar stores are important, however, a brick and mortar store integrated with e-Commerce is even more important – regardless of what business you're in!" says the Toyworld CEO.
Despite the uncertainty facing retailers and the ongoing changes to the way they're able to operate, the CEO remains confident that seamless integration is the key to success.
"Whether it be a Find In Store solution or C&C, full regional fulfilment or store fulfilment, whatever you choose to do, you have to be integrated… or your customers are going to let you know about it."
Find out more about Toyworld NZ: www.toyworld.co.nz
FIND OUT MORE ABOUT CLICK & COLLECT
About stockinstore
stockinstore is unifying eCommerce and physical stores. Developed for retailers, franchises, wholesalers and manufacturers; stockinstore creates an exceptional shopping experience for customers while providing highly valuable insights into customer demand for products across store networks. The award winning technology has continued to bridge the gap between online and in-store through a myriad of 'Find In Store', 'Click and Collect / BOPIS' & 'My Nearest Store eDM Widget' software solutions, and most recently their innovative 'Google Local Inventory Advertising (GLIA) Integration' solution.
Join a growing list of businesses choosing stockinstore including: Scanlan Theodore, YETI, 2XU, T2, Adairs, Sheike, Triumph, Sportsgirl, Aquila, Kidstuff,  Kookai, Alice McCALL, 99 Bikes, Intersport, Nique, Billini, Toyworld and Tentworld.
Media Contact
Rebecka Finn, [email protected]