Over 18 months in the making; we're very proud to announce that a 'Special Trading Hours' module has just arrived for stockinstore. This new function has been meticulously planned, designed, tested and implemented to ensure retailers can easily (and quickly) update their Stores' Trading Hours on Public Holidays and in fact, any day they define as having Custom Trading Days.
Our development team have worked around the clock to ensure it could be shared with stockinstore clients ahead of the busy festive trading season.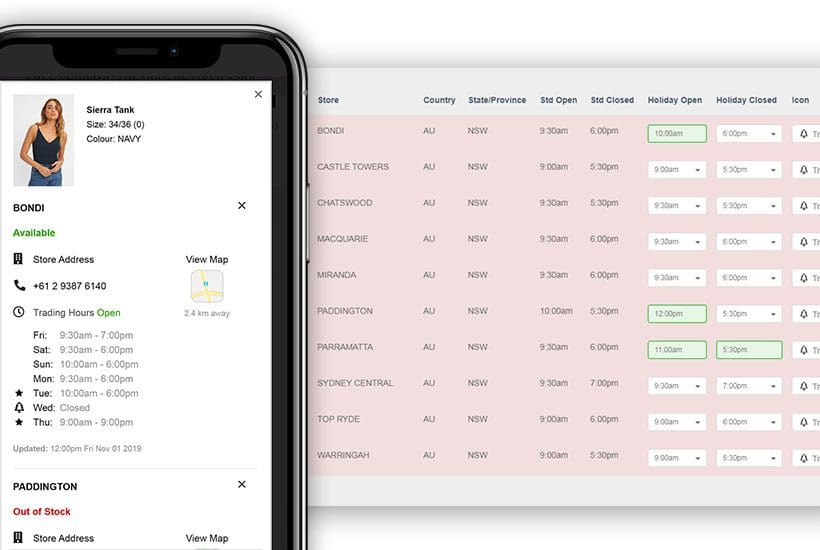 Here are some of the key features we've created:
Pre-defined Holidays
This one comes into play when, for the next 365 days in a specific location we know there are the same public holidays occurring. When you log in, the system will automatically detect the country that you're located in. i.e. if you're based in New Zealand, you'll automatically see the New Zealand public holiday's. You can also change the country or continue to filter the list of holidays to any region/date range.
Editing Pre-defined Holidays
We've uploaded a list of known public holidays for the Countries and Regions where our clients currently have stores.
For example: Christmas Day (25th December) and New Year's Day (1st January) are widely observed all around the world on the same date. They are available to all countries and regions to use.
When you assign a Pre-defined Holiday to your stores, you can override the following properties:
Assigning Individual Stores to a Holiday
We know that not all stores will have the same Trading Hours on a public holiday, so we allow changes to the opening/closing times and icon for either:
Individual stores at a time, or
Multiple Stores all at once, or
All stores at once
Straightforward hey?! Well we don't stop there…
Custom Trading Days
If the pre-defined holiday that's typical for your business isn't yet created, you can easily generate your own to update specific stores' hours.
Repeating / Recurring Custom Trading Days
Do you have a Custom Trading Day that recurs or repeats e.g. on the 15th of each month or the first Monday in March each year? No problem. stockinstore lets you create a custom trading day for it. This will then automatically recur the same time next year!
Set and forget. We've got you covered.
How the stockinstore widget displays trading hours:
The stockinstore widget will clearly display a store's trading hours, and in case you haven't already noticed, we don't display the days of the week like most systems e.g. Monday – Sunday or Sunday – Saturday.
Instead we display the current day's trading hours at the top of the list, with the next 6 days following e.g. if you were to browse on a Wednesday, the stores opening times would display in order of Wednesday – Tuesday.
Existing stockinstore customers can read the 'How To' guide here. Simply use the supplied Knowledgebase password to access the guide.
If you would like more information about how this module can help ease the pain of managing store trading hours, get in touch for a demo.
About stockinstore
stockinstore was launched in 2016 as a way for retailers to tell online shoppers which stores nearby have the item they're looking for. Since its launch, this ground-breaking technology has continued to bridge the gap between online and in-store; and gives retailers valuable insights into customer demand for products across their store network. To learn more about stockinstore and join a growing list of retailers like Adairs, Sheike, Triumph, Early Settler, PETstock, Kookai, Florsheim, MyHouse, Bevilles, Pillow Talk, GUESS, 99 Bikes, Intersport,  Nique, Billini, The Upside, Toyworld,  Bags to Go and Tentword, who are all using stockinstore to improve their retail businesses, visit https://www.stockinstore.com